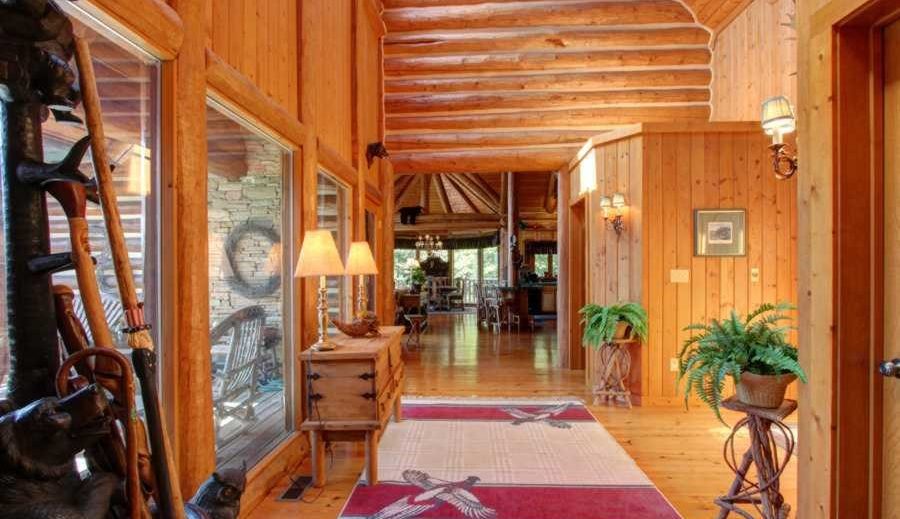 Decorating a log home presents a challenge on many fronts. When you understand why, you will be better prepared to get the job done right.
In addition to your "bumpy walls", there are a number of other issues to consider, when planning your log cabin rustic décor.
You will need to decide on a theme and style for the rooms in your new log cabin or home, and you will need to consider these things as well:
Wide Open Spaces
In a log or timber frame home, you often have an open floor plan. This means no walls in the main living area or the Great Room.
The challenge to an open floor plan is that you have to figure out ways to define the different living areas.
For example, how do you separate the sitting or gathering area, the dining area, the kitchen, etc.? Each room has its own purpose, and some separation helps define it.
Lots of Wood
Of course you love wood—or you wouldn't be building a log or timber frame home.
However, no matter how much you love wood, it can get to be too much of a good thing. You will need to break up the "wood out" in one way or another.
One way to do this is to alternate light and dark woods. Or try breaking up a large wood area of a wall with a pretty quilt or large pictures.
You can also use other natural materials like a rustic tile floor in the kitchen area, or define areas with attractive cabin rugs.
Logs Absorb Light
Even if you don't use a dark stain on your logs or timbers, they will darken naturally over time. And wood naturally absorbs light rays, making a room appear to be darker.
The way to combat this, of course, is to add light fixtures in strategic areas.
Much of this needs to be planned and installed during the construction process—so that lighting fixtures (like chandeliers, wall sconces, recessed lighting and ceiling fans) can be installed.
Your builder needs to install lighting fixtures while spaces can be accessed and so that wiring, etc. can be hidden.
In addition, you can also add pretty decorative rustic table lamps or floor lamps later, to enhance the lighting in special areas.
High Ceilings
We all love them! They make your rooms look so much more spacious and roomy. And they are lovely, with exposed beams and wood ceilings.
But, high ceilings also mean tall walls. Think of cool and interesting ways to make your tall walls interesting.
You can use anything from antique snowshoes or skis to quilts, or consider displaying your favorite collectibles.
Decorating a Log Home with Round Log Walls
While round logs can seem like a challenge, you can usually work with them. For example, flat back kitchen cabinets can be mounted to rounded logs. And you can hang pictures on log walls. With a little patience, you can make it work.
So, while finding log home decorating ideas can be a little challenging, it also is a lot of fun.
Log and timber homes, like no other, do reflect the personalities of their owners. And decorating a log home is quite satisfying!