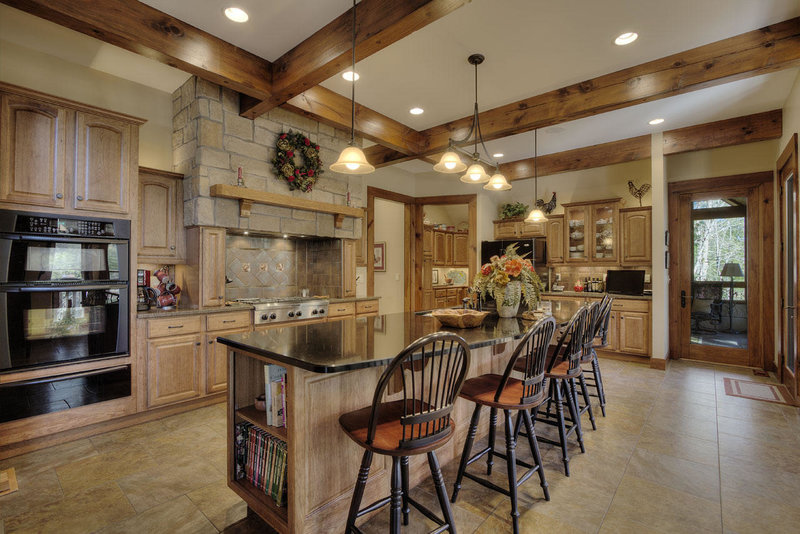 Country kitchen décor is not an afterthought. Now that you have built or purchased a new log home, it's time to furnish it with some good old fashioned kitchen accessories.
Country kitchens come in all sizes and shapes. However, some are large and spacious and others small and cozy.
Of course everyone has their own idea of what the perfect kitchen is for their family. For instance, some people enjoy showing off collections in their kitchen, while others prefer a perfectly organized kitchen with no "clutter" in sight.
On the one hand, you might prefer the old fashioned look of a central table (or island) with traditional cabinets and old fashioned knobs. Or you might like a more modern look with no overhead cabinets to obstruct the view in any direction.
However, no matter what configuration you choose, you will need to add some kitchen décor and accents to give your kitchen some character and pizazz.
Soften the Look of your Kitchen Décor
In order to tone down sharp corners and stark lines, you'll need to add some softness to your kitchen decor. How can you do that? Easily.
Consider some pretty kitchen curtains to add a little color and texture. In addition, pretty kitchen linens like towels will help you carry out your theme. On the other hand, you might consider some theme-related or plain tablecloths for your dining area.
And don't forget to check out our rustic dinnerware. I love to change our dinnerware for different seasons and for special occasions. Fresh table settings make a dinner for you and your guests special.
Of course, if it's just for the two of you, for an intimate romantic dinner, all you need are a couple place settings. And you're good to go!
Choose a Theme for Your Kitchen
Decide on a theme for your kitchen, and and your life will be a lot easier. What do you really enjoy about living in your log home or in your neighborhood? Is it watching wildlife, perhaps deer, turkeys or ducks on a pond?
On the other hand, you might love the sound of roosters. Or maybe you enjoy going to pick apples with friends in the fall. Rooster kitchen décor and country apple décor are two of the most popular themes for kitchens.
Browse through our selection of rustic décor for your kitchen and dining area. You're sure to find some ideas. In addition, perhaps you'll find the perfect accent piece for your log home kitchen.