Welcome to Everything Log Homes!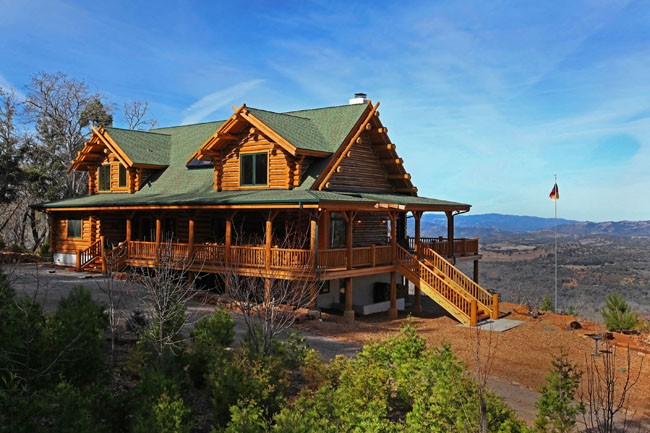 Dreaming about log homes? Planning to build? Or are you just looking for some decorating ideas to create your perfect rustic home decor?
Log cabin living captures the warmth and coziness of times gone by.
And the warmth of wood helps to make a house a home.
Indeed, living in a cabin or lodge can connect you to simpler times and an uncomplicated lifestyle.
We're Steve and Linda Brinser, and this is Skipper, our miniature schnauzer.
In addition to appreciating the old world artistry of a beautiful timber frame structure, we also love the warmth of wood and the hominess of a cozy log cabin.
And, as experienced owner-builders of different styles of homes, our home-building experiences have taught us a great deal about:
Perfecting house plans
Choosing home packages
The home building process
Working with contractors
Energy saving products
Money saving ideas
Building different types of homes
We'd like to share our experiences with you, so that you will be able to build and enjoy the home of your dreams.
You CAN avoid the mistakes that most home owners make, whether you hire a builder, act as your own owner-builder, or do it yourself.
Green Living
One of the homes that we built is a hybrid timber frame. The exterior walls and the roof are SIPs (Structural Insulated Panels), and it has a no/low maintenance exterior.
And our home was VERY green! The structural insulated panels made the house warm and cozy.
Without adding materials or chemicals that make sensitive people sick!
We chose to use vinyl siding (yes we did say vinyl) that actually looks like weathered cedar shakes!
On more than one occasion, someone walked up to our house and touched the siding to see if it was wood.
Our home is a good example of a green home, and it is ultra energy efficient! We'll be sharing information on the features that we used to cut down on energy use, and those that make it a green home.
Building a Log Home?
Building a new home can be very stressful. Especially if you've never done it before!
Perhaps we can help.
We have built several homes for ourselves. Steve served as the general contractor.
There are some tricks to designing and building a log home. That includes timber frame, post and beam, or a structural insulated panel home.
Each kind of house is a little different in the way that you approach it. But no matter what you'd like to do, there probably is a way for you to get what you want!
As you go through the site, we'll give you tips and pointers on how to do things right and how to save money.
And we've also included some decorating tips and ideas for rustic and country homes.
Of course it's not all about us. We'd like to hear from you!
If you have any comments or would like to ask a specific question, please Contact us.
Products in our Shops
Choosing rustic cabin decor is a process that I take seriously. I know that you expect to find quality products for sale, that will make your log or timber home look great!
When you shop for rustic cabin decor products, you want to know that you are making a smart purchase of products that will look good, and last for years to come.
You and I both know that I couldn't possibly have used every single product shown here, in my own home. So how do I choose the products that I share with you on my website?
Online shopping is fun. And I try to make it as easy as possible, for you. In a nut shell, here's how I do it…
Rustic
Because Everything Log Homes is about rustic log and timber homes, I look for rustic cabin decor designs. When we were looking for furnishings for our hybrid timber frame home, we had trouble finding good quality items that went with our new home. That's partly why we decided to start this website.
Things I Like
I know this is not scientific, but I do choose things that I personally like. It's pretty hard to write a description about a product that you don't like. I like to keep things fun!
Reputation of the Manufacturer
This is important to me because I want my purchases to be durable and last for many years.
Product Reviews
I look at many sites online to see what people say about a specific product that they purchased.
Of course this is pretty subjective, but I do try to get a good sense of which products are good or bad. And I want to make sure that I recommend only the products that you will be happy to own.
Finally, I want you to know that I have not received any money from any manufacturer or retailer to review their products. And I have not received any free products from anyone, either.
I choose the products to review myself, do the research myself, and I write reviews of products that I feel are the best choices available. No one else has influenced my decisions.
I hope you are enjoying my selections. I have to admit that I've had a lot of fun finding them.