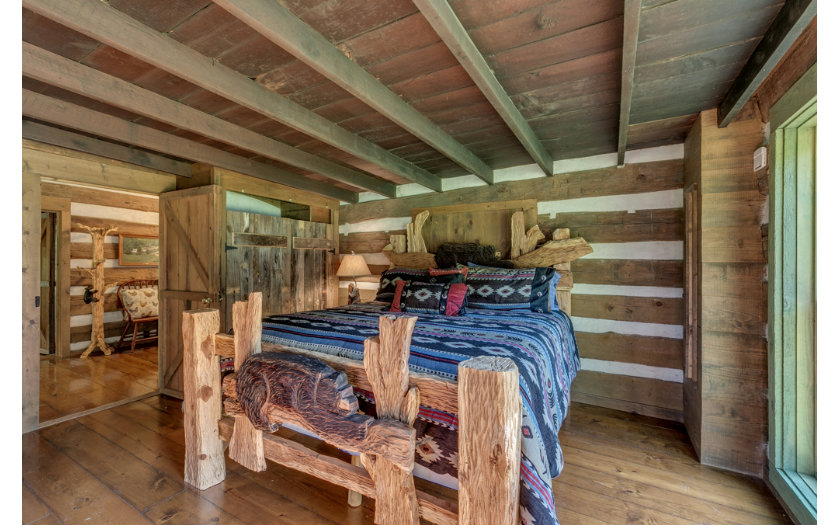 The Focal Point of Your Bedroom
Choosing rustic cabin bedding for your log home will add color, texture and character to your bedrooms. These tips will help you make the best choice.
Rustic bedding, whether log cabin quilts, western bedding, or luxury rustic bedding is often the focal point of the room.
Because the bed is one of the larger pieces of furniture in a rustic bedroom, the bed linens or rustic bedding pieces draw the eye to the colors, patterns and motifs on the bedspread, comforter or quilt.
Choosing cabin bedding for your cabin or lodge décor is important, but, of course, not reversible.
And, if you are a person who likes to freshen things up a bit, you can always buy a couple of bed covers and use them for different seasons!
This comforter in earth tones (click link to learn more), with scenic mountain motifs is an example of luxury cabin bedding.
Cabin and Lodge Bedding
Rustic cabin bedding is one of the simplest ways to give character to your log or timber home, and using rustic bedding will add color and connect your bedroom to the outdoors.
Depending on whether you are buying rustic bedding for your timber frame lodge home or purchasing rustic cabin bedding for your weekend cabin in the woods, you will want to explore different options.
Rustic Comforters
Fluffy and cozy comforters can be a nice addition to a rustic bedroom.
You can buy comforters with down stuffing or comforters with synthetic linings like polyester.
Down linings, made from natural feathers, will be more expensive than synthetic linings. Down is known for its light weight and its warmth.
Woven Bedspreads
Bedspreads, hand woven on a loom, can be lovely and they can reflect your rustic décor theme, as well.
Especially if you are using a western theme or southwestern theme in your cabin or lodge, you will be able to find woven bedspreads with geometric patterns or native American designs.
Cabin Quilts
Rustic quilts have a place in rustic cabin décor.
Quilts have been used in log cabins since colonial times in America.
Some cabin or lodge owners choose to use antique quilts, perhaps with antique furniture.
Others may purchase or make a new quilt, with a design the reflects the theme of their rustic home décor.
Using handmade quilts in a rustic décor is very traditional.
Luxury Lodge Bedding
Like any other item for the home, you get what you pay for with rustic lodge bedding.
Luxury bedding comes in a number of different fabrics, including wools, MicroPlus (warmer than plush), washable cottons and polyesters and some pillows are trimmed in tapestries or leather.
Depending on the fabrics and trims used, your comforter or bed set may or may not be washable.
When you choose luxury rustic bedding, you can expect a high quality, and you can mix and match pillows and accents, as you will probably be buying each piece separately.
Value Bedding
A northwoods theme gives you lots of options.
If economy is important to you, then you might consider purchasing a rustic bedding or comforter set.
Comforters in this category will probably be a fabric blend, part cotton and part polyester.
One advantage to this fabric blend is that the bedding will be washable—and you may be able to dry it in the dryer, as well.
Some will need to be hung on the line. So if this is important to you, read the description carefully.
The other advantage, of course, is price. Many inexpensive comforter sets will give you a look that is similar to the more expensive luxury rustic bedding, but for a much lower price—often under $100.
Rustic Cabin Bedding Themes
Rustic cabin bedding comes in a variety of designs that will help you carry out your country décor theme. Here are some that you might look for:
Western Bedding
If you have a western theme, you will be able to find woven bedspreads or rustic comforters with native American designs, geometric designs, horses, horse shoes, cowboys, wolves, big horn sheep or cattle.
Bear Theme
Bears are always popular in lodge or cabin décor. And you can find whimsical bears or lifelike bears on rustic bedding.
Moose Bedding
Moose are also popular, and they go well with a North Woods theme.
Many people fall in love with moose, even if they have never seen one.
But, if you see one in the wild, you're hooked. Moose have a mysterious power to get us to love them!
Wolf Bedding
Wolves represent freedom and the wild west. And they also capture the heart of people who want to preserve animals that are becoming more and more rare.
Pine Cone Bedding
If your theme is simply "Outdoors", pine cone bedding works nicely. It also goes well with North Woods or any other of the outdoor themes like deer, moose, bear, etc.
Camo Bedding
This goes with pretty much any outdoor theme, and camo is very popular with those who love the outdoors. There are a number of different patterns in camo, so don't think that camo is dull!
Rustic cabin bedding can add interest to your rustic cabin décor. Choose your rustic bedding to match your lifestyle, your cabin décor and to complement your rustic theme.
Country Comforters and Quilts Set the Bedroom Theme!
Rustic bedding can play a huge part in carrying out the theme of your rustic log cabin or lodge décor. Or your timberframe home on the beach, for that matter! Fortunately there are many lovely comforter sets to help you with your log home decorating!
Your log cabin decorating will be so much easier if you center your bedroom theme around a special theme comforter set. And, depending on where your cabin is located, there are many cool themes for bedding comforters, to choose from.
For instance, if you have a beach house or timber lodge, you can choose salty and rustic, nautical or beach themes with shells, fish and palm trees or tropical with bright colors and whimsical scenes.
If you have a log cabin in the woods, choose an animal like a bear or deer, choose pine cones and trees or choose a garden or herb theme with song birds.
If you have a cabin on a lake, use fish and water motifs, along with animals that you see near your home.
Or, if you have a timber frame lodge near a ski slope, use wildlife or snow shoes, skis and winter scenes throughout your rustic décor.
Whatever you decide to do, keep it consistent—that way your cabin decorating will be much more effective!