Learning how to decorate a log home presents a special challenge for the new log home owner. And it's not just the shape of the logs on the walls.
You have wood everywhere, and walls, ceilings and floors all seem to run together.
One of the greatest challenges is simply defining spaces. That's partly because most log homes have open space designs.
Definition of Space in Log Home Interiors
In this common area, there are some rustic features like rustic furniture, paintings and fabrics.
However, the spaces are poorly defined. It feels unsettled.
A simple solution would be to use rustic area rugs in the sitting area and the dining area, to define where each space begins and ends.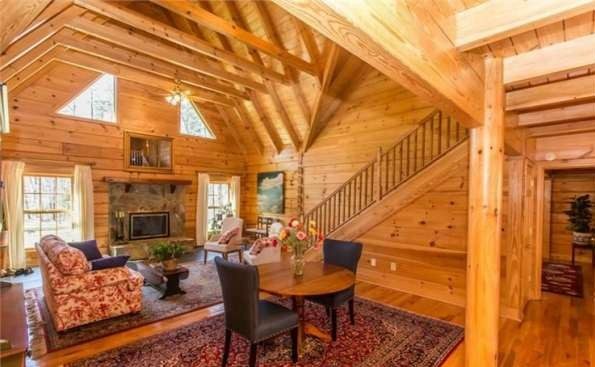 In this log cabin, the sitting area is clearly defined.
Chairs and sofa are placed around the fireplace, an area rug defines the sitting area.
The small dining area is defined by a rug.
All in all, the boundaries are clear.
Finally, the room's hard angles are softened by the drapes at the windows and the area rugs.
Log Home Walls
In addition, log walls, whether rounded or flat, can be difficult to decorate. And there often is so much wood on the walls, ceiling, floors and furniture—that you have a virtual "wood out", like the "white out" in a blizzard!Log cabin interiors can be very cozy, but remember that rustic decorating takes planning!
So log home decorating requires some thought and planning. You can still have a great rustic décor, but your log cabin interior will need to have to have some contrasting colors and textures.
Consider using fabric or cloth accents like cabin rugs, a beautiful quilt, rustic curtains or valences, and wall hangings to soften the look. And make sure that you have enough rustic lighting accents to brighten the interior of your log home!
Decorate a Log Home Before you Build!
If you are building a log cabin, the time to plan for interior decorating—is BEFORE the home is built. This is the time to consider rustic wood staircases, as they can make a great feature in your log cabin.
If you purchase a log or timber home that is already built, you will have to work with your rustic home as it is.
Here's the secret to great log home decorating—It's all about details! (You can read more here or page down to see photos of log home interiors.)
Carefully thought out details, take your log or timber home, from a nice log home to an extraordinary one!
Personality of Log Home Interiors
Most of us don't think about our own personalities when decorating our homes. However, maybe we should!
Log home interiors should reflect the personalities of their owners.
The owners of this log home are fun loving, as evidenced by the cute decorations and the pretty floral arrangement on the table.
Log Home Interiors Can Connect with the Outdoors

Log homes with their large windows, often feel connected to the outdoors.
You can make this even more effective by using plants and flowers in log home interiors.
Using natural materials like the stone on this fireplace also gives you a feeling of connectedness with nature and the outdoors.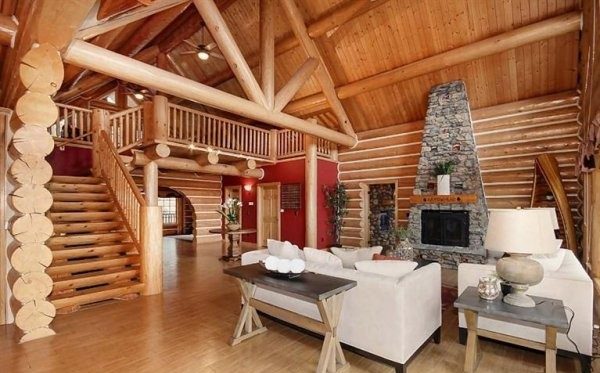 Part of the reason that we build log and timber frame homes is the intrinsic beauty of the wood and the structures.
This log home uses the large log beams and a wood railing in the loft, as a large part of its decor.
Decorative posts and beams give your home a beauty that is not seen in other types of homes.
Note the stone fireplace in this home–another natural feature that makes it distinctive.
Add Character to Log Home Interiors
The antique wood stove lends character to this cozy log cabin, as does the brick wall behind the stove.
Not only is this cook stove decorative, it also will come in handy if the electricity goes off during a storm.
The message that this room gives the viewer is that this is a lived-in home.
Feel free to kick off your shoes and stay awhile. You will be comfortable and safe here.
If you are decorating a weekend cabin, this would work for that setting.
Taking the time to do a little research and planning for your log or timber home will reward you with a lovely rustic home interior.
And, most importantly, this is really not a chore because–decorating log home interiors is rewarding and FUN!
Articles to Help Decorate a Log Home
Log Home Decorating Themes
Log home decorating often follows a theme such as country, western, North Woods with bears and moose, deer or even pine trees and woods. You can find themes to explore here.
Kitchens in Log Homes
Your log home kitchen can be rustic or as elegant as you'd like.
Interior decorating effects in the kitchen are achieved by kitchen cabinets, walls, flooring and decorations.
Log Home Lighting
Log homes present a challenge for lighting, so it's best to plan ahead for your lighting fixtures and accents. You'll need to consider the points in this article before you complete the plans for your new log or timber home.
Accent your Room with an Antler Light
The antler light is very popular in log and timber homes.
Purists may prefer to have natural antlers in their fixtures (They are shed naturally by the deer, elk or moose) or the newer (and less expensive) man-made version.
Here are some possibilities for different antler lights in your log or timber home.
Amish Log Furniture
Amish log furniture, known for its quality and craftsmanship, adds rustic appeal to a log or timber home. Many Amish furniture pieces are simple in design and have a rustic appeal.
Choosing a Log Railing
While a railing isn't the first thing that you think of when you buy a new home, choosing the right railing can really spiff up the interior (or exterior) of your home!
Outdoor Log Furniture
Log furniture isn't just for interiors.
Log furniture can carry your log cabin theme to your outside patios, porches and garden areas. This selection of outdoor log furniture for porches or patios has something for everyone…