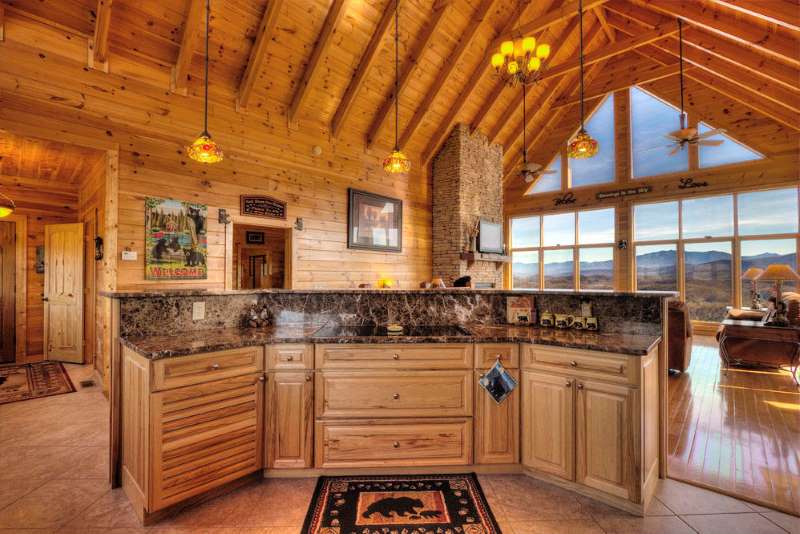 Country kitchen decorating ideas to help you outfit your rustic country kitchen.
The heart of the home is the kitchen. And because most of us spend a large amount of time in our kitchens, it is well worth the effort to make your kitchen pleasant and attractive—and it should reflect YOUR personality!
Aside from having a major renovation done in your kitchen, there are many small touches that you can add, that will make your kitchen homey, fun and a place that people like to gather in.
Rustic hanging kitchen pot holders give a casual look to country kitchen decorating. They are decorative in addition to being a great way to save storage space in a small kitchen.
Log Home Kitchens
Here are a few rustic country kitchen decorating ideas:
This country kitchen used horseshoes as hardware for the cabinets.
Use your creativity to think of ways to use the things you love as country decor in your log or timber home.
Note the canisters on the cabinet. This is a way to cut down on the space used in cabinets for these items.
Also on the counter top, canister sets can be quite decorative and they will help to set the mood in your kitchen.
Choose a whimsical design or choose a plain colored canister design that reflects the main color of your kitchen color scheme.
If you choose to use cannisters, put the food that you use most often in them.
Washable Rugs
While not absolutely necessary, it is really nice to have a washable rug in front of your sink. I know some people are very careful, but I tend to be a bit sloppy in the kitchen, and it's nice to know that you can just throw your kitchen rug in the washing machine!
Country Linens
You can change linens often to reflect your mood or the season.
Consider getting cute country place mats, rustic table linens and paper or cloth napkins that reflect your decorating theme.
In addition, don't forget to change simple things like kitchen towels, napkins and even dinnerware with each season. These little changes make a world of difference in how you feel, as each season changes.
Hand and Dish Towel Holder
Finding a place to hang your hand towel or dish towel is often difficult in most kitchens.
Consider a whimsical towel holder that you can hang on the wall next to the sink or on the side of a cabinet.
The handle for the stove is not your best choice…
Paper Towel Holder
Paper towels need to be held—either by a free standing towel holder or by a wall mount paper towel holder.
Choose a cute one that will complement your décor, instead of a plastic nondescript one.
Cookie Jar
Whether for your dog's treats or your kids' cookies, a cookie jar that sits on the counter is often a great way to include a novel countertop decoration.
Decorative Wine Rack
Wine has become very popular in American homes, and a decorative wine rack makes a nice addition to a country kitchen.
Your wine rack will keep wine bottles handy when you are entertaining, it economizes on space and it lends a sense of sophistication to your country kitchen.
Decorative Shelves
Whether you need a shelf for your cookbooks or you need a place to display a small collection of something, decorative wooden shelves can add country flair to your kitchen.
You can find them with wild animal decorations, with hearts or with geometric designs for a more western décor.
Baskets and Wooden Bowls
Baskets and wooden bowls are a way to hold things like fruit or vegetables.
And they are a way to eliminate clutter.
Baskets and wooden bowls are very country!
Wall Art
Signs that give guests instructions from the cook or country prints work well in country kitchens.
You can also find cute metal wall art décor and other decorations that will serve to brighten your kitchen.
Rustic Kitchen Curtains
Your choice of curtains is important to carrying out your country kitchen decorating theme.
Choose curtains that have complementary colors to the rest of the room and that have motifs that reflect your kitchen decor.
These country kitchen decorating ideas should get you started.
Just keep in mind that it's best to choose colors that are complementary and, if you stick to your decorating theme, you should end up with a first class kitchen that people love to come to…