Log cabin curtains and window treatments for rustic homes can be very simple, ranging from fabric valences that preserve a great view, to heavy curtains and drapes that keep you cozy and warm in the wintertime!
Log cabin curtains vary from home to home, and they are often traditional curtains. However they can also be modern window treatments like shades or blinds, especially where you want to highlight the views from your windows.
No matter what kind of rustic window treatments you choose, make sure you measure your windows before making your purchase!
Rustic Window Treatments
When you are choosing curtains, drapes or valences for your log cabin windows, keep in mind your goal. If you want privacy, choose heavier curtains or drapes.
If you want to screen out the mid-day sun, you might consider a valence with a shade or blinds.
And, if you want a little color and decoration, but still want to see the view, choose a pretty valence to be used alone.
In addition, bedroom windows should have drapes or curtains that give the occupants privacy. That's true even if you live in the country.
Sometimes privacy and coziness are more a feeling than a reality.
And that's what rustic window treatments are all about…
---
Log Cabin Curtains for the Bath
Bathroom window treatments do not have to be hum drum, and, in addition, you can also use bathroom curtains to coordinate your master bedroom with your bath.
However, curtains for a bathroom do need to provide privacy and a feeling of comfort for anyone dressing or undressing in your bathroom.
Of course you do have more choices when you live in the country. Depending on where you live, and how much privacy you have, you may want to use cafe or tier curtains.
You can dress up tier curtains with a valence, swag or sheers. Or, alternatively, just use a cute valence alone, to brighten your bath.
When shopping for bathroom window treatments, keep in mind that sometimes matching tiers are available, even if the photo only shows a valence.
Choosing Bathroom Window Treatments
Bathroom window treatments can be simply decorative and fun, or very practical and maintenance-free.
In addition, window treatments for the bath need to be able to handle extremes of temperature and moisture.
This cute moose valence can be used in a number of places but, used alone, it could be used as bathroom window treatment. Pair it with long curtains and coordinate your bathroom and master bedroom for great Northwoods rustic appeal.
Here are ideas for some bathroom window treatments, to help you get started:
Valances as Window Treatments
An interesting valance, like the V-shaped one above, can add interest to your bath, and it can draw attention to a specific window.
Use a valance with a shade (that can be hidden behind the valance in the daytime) or blinds for privacy.
To coordinate the looks of your bedroom and bathroom, use the same valance in both rooms. In the bedroom you might use long curtains, as show in the photo above.
Self-adhering Vinyl Sheets
Self-adhering vinyl sheets that resemble etched glass can be attached to a window to provide privacy. This works best for windows with an ugly view or where your bathroom window is seen easily by others.
Etched Leaf Window Film is an example of this product. It does not use adhesives, and it can be easily removed if you decide to do so later.
Shutters as Window Treatments
Shutters can provide character and privacy in a bathroom. Historically, shutters were used to insulate a window to keep the house warm inside. Now they are more often used decoratively.
Fabric Log Cabin Curtains
Using fabric curtains in a bath helps to offset the look of hard surfaces and sharp angles, and it adds softness to your room.
Window sill length curtains are better than floor length, as they won't become soiled when you wash the floor frequently.
Choose fabrics that are washable, for easy care.
Decorative Stained Glass
Hang a beautiful stained glass piece like this Tiffany-Style Stained Glass Window hanging like this one of a deer, in your bathroom window, both for beauty and for privacy.
Your bathroom is a refuge, a place where you can relax in the tub after a long hard day. Choose colors, fabrics and accessories that uplift you and make you feel good.
Make it totally yours…
---
Log Cabin Curtains and Window Treatments for the Kitchen
Kitchen tier curtains are often used in log and timber home kitchens because they are so versatile and they provide a casual, but easy-care solution to decorating your kitchen windows.
You have a number of options for kitchen curtains. For example, you can use a valence or swag alone, use tiers with either a valence or swag or use any combination that works for your window.
Tier curtains offer you the option of:
using a valence with a café style curtain
using the valence separately
keeping the lower tier closed to keep out unwanted sunshine or give you a little privacy in the kitchen.
What's Available in Kitchen Tier Curtains?
Tier curtains for the kitchen come in lots of cute prints and also with embroidered or appliqued figures. For example, if you have used a particular theme in your cabin or cottage, you may be able to find kitchen tiers with that theme.
Some of the most popular country kitchen curtains have figures like roosters, apples, strawberries, grapes or wine, and, of course, traditional fruits, figures of chefs and perhaps your favorite foods.
Simple and Casual Log Cabin Curtains
For log and timber homes, you might also use a simple valance with figures of deer, moose, elk, pine cones, hunting dogs, fish, bears or birds. Try teaming a cute valance with a short plaid, polka dot or plain colored curtain or purchase a kitchen tier set.
Whatever you decide to do with your kitchen windows, keep the window treatments simple and easy to clean.
A log or timber home, whether a lodge or a cabin, is a relaxing and laid back type of home. Make sure your kitchen window treatments reflect that character.
Country kitchen curtains should be bright, fun, informal and practical, and they should reflect your personal interests and the character of your country home.
In fact, country styles for curtains are the all-time favorites for both kitchens and family rooms. That may have something to do with our love for informal, relaxed living—and we do spend most of our time in these two rooms!
Add Spice to Your Kitchen Window Treatments!
Choose easy to maintain kitchen window curtains, as you will need to wash them from time to time. Some fabrics that have a casual country look and are easy to wash include gingham, cottons, polyester blends, calico, ticking, linens and muslin.
If your home has a central theme, for example, a "fishing cabin on the lake", choosing your kitchen window curtains provides another opportunity to use prints or motifs that express your fishing or boating theme.
Sometimes a valance is all a window needs. A valance can add color and interest, without drawing attention from an attractive window.
Kitchen window curtains can enhance your rustic décor and give one of your most popular rooms a cheerful and welcoming look. Choose carefully and you will have care-free window treatments that will make your home more warm and inviting!
Rooster Kitchen Curtains
Rooster kitchen curtains can brighten your country kitchen, whether or not you raise. And your little roosters will greet you cheerfully, no matter what the weather!
A traditional motif, roosters and chickens have been used in kitchens for many years. However, their symbolism and country flavor never seem to get old. In fact, we often see roosters used as a theme in log home kitchens today.
Rooster curtains used in the kitchen or bathroom are often made of cotton or a polyester blend, and they are washable. As you know, kitchen curtains need to be practical, as they will be laundered more frequently than curtains in other rooms.
In addition, kitchen window curtains should be sill length. The curtains can be tier curtains with swags or valances to match. Or, alternatively, if you have a nice view from your kitchen window, you can just use a decorative valance, without the tiers.
Roosters are symbolic of early rising and a bright start to the day. If you enjoy the early morning and hearing roosters crow, why not use log cabin curtains with roosters in your kitchen?
Apple Kitchen Curtains
Apple kitchen curtains are an example of country window treatments that reflect foods that you often use to prepare meals for your family.
One of the most popular fruits used in country décor, apples are one of the favorite foods that people living in the country, enjoy each fall.
Can you think of anything homier than a fresh baked apple pie?
Apple kitchen curtains are usually made from washable fabrics like muslin, gingham, calico, ticking, homespun and plain linen. They can be printed with fruit and apples, or they can have apple appliques or embroidery on them.
Your kitchen is one of the busiest rooms in your home. Not only do you prepare food there, but you may use the kitchen for children's homework, paying the bills, having tea with neighbors or working on craft or sewing projects.
Choosing curtains with an apple theme will give your kitchen a down-home earthy feeling, and will help everyone who spends time there, to feel at home!
---
Log Cabin Curtains for the Bedroom
A bedroom window treatment can creatively express your personality, but it must also perform some functions that will help you get a good nights' sleep! We all sleep better when the room is dark, and curtains also provide privacy for undressing.
Your bedroom retreat can be part of your personal fantasy world, a romantic getaway for the two of you, or a place where you can find a quiet hideaway from all the stress and anxiety in your world.
You can create wonderful window treatments using a cute valance all by itself, or paired with a complimentary pair of drapes–that could include plain or plaid designs.
Choosing Log Cabin Curtains for your Bedroom
When choosing your bedroom window treatments, consider color, texture, and design. In addition, you should also consider what you want your window treatments to do.
Comfort
Pick bedroom curtains that will address your issues for light, noise and privacy. For example, do you enjoy getting awake to the first rays of sunshine? Or do you prefer sleeping in a deep dark cave? The weight of your curtain fabric will determine lightness or darkness in your bedroom.
Do you need privacy during the day, but want light to enter your bedroom, as well? If so, consider layering with curtain sheers.
Sounds can keep you awake at night. If you hear annoying sounds at night, choose heavier curtains to cut down on the noises and sounds.
Peaceful Atmosphere
Your choice of colors can influence the mood in your bedroom. Choose neutral tones for curtains to create a quiet backdrop for a restful bedroom.
Cool colors like green or blue are peaceful. On the other hand, warm colors like yellow or red, are invigorating and will help you get awake in the morning.
Sheer Curtains
While you may not think of sheers for a log cabin bedroom window treatment, they can give you privacy when you want it. However, sheer curtains still allow you to use your bedroom during the daylight hours.
Colored sheers or sheers with patterns add interest to windows, as well.
The Rule of Three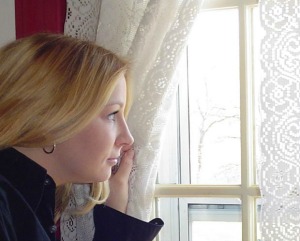 You can achieve balance in your bedroom by using a pattern or print in 3 different places. This gives a pleasing and balanced look to your room.
Your bedroom is your personal and private place, a retreat for you and your partner, alone.
Choose the furnishings for this room carefully, to suit your personal tastes, and you will enjoy your solace, all the more…
---
Country Window Treatments
Country window treatments are casual and informal, and they often invite the eye to take in the scenery outdoors.
You'll find that window treatments often have a homemade look. Log cabin curtains often are made of pretty cottons, muslin, burlap or wispy laces.
Curtains in a log home or cabin help to soften a room that has lots of hard surfaces, like wood and tile. They also provide finishing touches that make a room look complete.
Window treatments in country homes can be lined or unlined. As an aside, valances are often lined. However, you can use simple unlined tier curtains as your summer country window treatments .
With rooms that have a view, you'll want to keep your window treatments to a minimum. For instance, you might choose to frame a pretty view with a simple decorative valance.
Northern Exposure
However, in the North, in the winter months, choose heavier (possibly lined) curtains or drapes. Heavy drapes help to insulate from the cold winter winds.
For any time of the year, mixing and matching works well in country decorating. Be creative. It's perfectly OK to combine a small plaid with a plain color or even another print. Consider the colors and how they will look together. If you like the combination, claim it as yours.
The bottom line in decorating country windows is practicality. What do you wish to achieve? When you can answer that question, you'll know what kind of curtains you need for your windows!
Valances for Country Windows
Rustic valances add pizazz to a log cabin décor. And they come in a huge array of different fabrics, themes, motifs and styles.
One nice thing about window valances is that they can be used without additional curtains. And you can also find them in lots of different log cabin themes.
I like to use different kitchen valances for special holidays, and for each season of the year. Because they cost so much less than a full set of curtains, it's easy to have lots of whimsical valances that we never get tired of seeing.
You can easily change your valences with the season, the holiday or when you just feel like a change…
While there are many cute prints in window valances, my favorites are the appliqued or embroidered valances. The valances made by Patch Magic and Bear Lake are often handmade and always well-made.
More recently, I've seen some cute quilted valances and some adorable prints, as well. I have to admit that, with so many cute patterns available, making a decision can be tough!
Rustic valances are great, paired up with a country plaid, gingham or striped tier curtain. Of course you can also use valances alone, giving you many different choices. No matter what you like, don't overlook these great little country curtains.
---