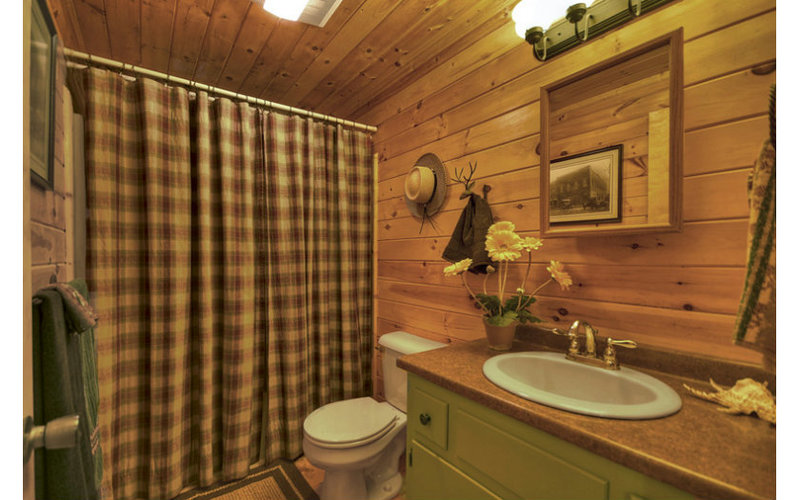 Bathroom cabin décor items can easily transform your current bath into an inviting room that looks like a total redo. Changing just a few simple things like the lighting fixtures, mirrors and the shower curtain will make your bathroom look like new!
Set the Theme for Bathroom Décor with a Shower Curtain
A pretty shower curtain takes center stage in a bathroom. Build the rest of the room around your shower curtain and give your bathroom a new face lift.
Choosing rustic shower curtains for your log home bathroom décor is fun. But quality rustic curtains for the bath can be a bit difficult to find.
When looking for a country shower curtain for our timber frame home in Virginia, we had a difficult time finding one that we really liked. We struggled with design vs. quality. Perhaps you've had the same experience.
When you find a shower curtain that you like that is also good quality, you're ready to add bath accessories to complement its motifs and colors.
Shower Curtain Themes
Choose a shower curtain that you really like and then build the rest of the room around it.
Black bears are a common theme in log home baths. If you choose a wildlife or bear theme, make sure you add some bears in your bath accessories.
Does that mean that you can't have any other animal or motif in your room? Absolutely not!
In rustic decorating, you can mix and match a bit. Add some pine cones, an antique looking metal sign, a rustic print or picture, other wildlife or animals and a few pine trees to create the rustic look that you want.
Remember that you are decorating YOUR bathroom in your log or timber home—and your rustic bathroom cabin décor should reflect the things that YOU love!
Rustic Shower Curtain Hooks
Rustic shower curtain hooks complete the look in your bathroom décor. While your shower curtain is the most important accessory for your bath, the shower hooks can really set it off. Like icing on a cake!
How do you choose the right ones? Choose rustic shower curtain hooks that match or complement your shower curtain. The combination of shower curtain and hooks can give you an extraordinary bathroom makeover—for an inexpensive price!
Novelty Curtain Hooks Spice up Bathroom Décor
Novelty shower curtain hooks are often cute, and they can be anything from horses or cowboys to dolphins or seashells.
Since these little hooks achieve a place of prominence in your bath, choose them carefully to make sure that they serve as accents, but they don't grab all the attention themselves.
Unlike plain shower curtain rings, decorator rustic shower curtain hooks give your log cabin or lodge bathroom a custom design look! And they are so affordable, that you can hardly afford to overlook them!
Shower curtain hooks are such a simple thing, but they can have a huge impact on your decorating, if you choose the right ones.