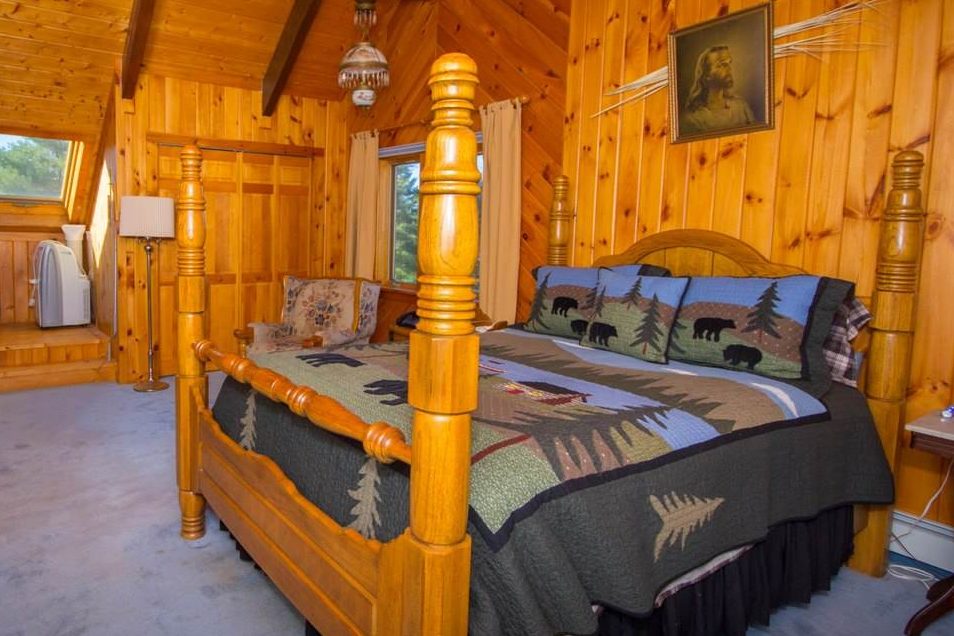 Attractive rustic bedding comes with many different themes and interesting outdoor scenes. The tricky part will be deciding which theme you like best.
Wildlife décor is perfect for almost any log or timber home—whether in the woods, by the lake or river or sitting on top of a mountain in Tennessee!
And you have many choices for your log cabin decorating! You can use pine cones and trees, with wild animals like bears, wolves, fox, deer and even smaller animals like raccoons.
Choose a Bedding Theme
Southwest Bedding
Southwest bedding gives your rustic log cabin or timber frame home the feeling of being in a lodge or ranch. And this selection of southwest has some of my very favorites.
You'll find that colors in southwest bedding are often rich and bold. Colors like reds, oranges, browns, rusts, and turquoise are common in comforters and accessories.
Typically, southwest bedding has geometric patterns like those used by the Indians in the area. You'll see motifs of teepees and feathers and very organized patterns.
And of course, southwest bedding fabrics include warm fleeces, cottons and faux leathers.
When you use southwest bedding in your rustic lodge bedroom, you will achieve a casual understated and sophisticated elegance.
Rustic Bedding with Camo
A camo comforter set? It's a trend that started a few years ago, and it has caught on…
Have you ever looked around, in a group of outdoors men? Camo is definitely in!
And, while camo is intended to camouflage something, it is also used decoratively and comes in many different patterns. For instance, you can find a camo comforter set that has autumn leaf coloring, a camo comforter set that looks like the desert, or even a pink camo comforter set.
And camo is no longer limited to branches and trees. Now you'll even find patterns with corn stalks, sunflowers and antlers.
Your choices are limited only by your imagination and the effect that you want to create.
Cabin Bear Bedding
Cabin bear bedding can be dramatic or subdued, fun and frivolous or serious. And black bears are always a favorite for rustic log or timber frame home decors.
With black bears, you can find whimsical bears that are fun—or you can have realistic bears that are natural.
Choosing the best cabin bear bedding for your rustic décor, may be the most difficult thing that you do. But it's also lots of fun!
Use your rustic bedding to pull your wildlife theme together. Also, do make sure you coordinate your cabin rugs, your window treatments and rustic cabin wall décor, to bring the theme together for your log home.
Black Bear Rustic Bedding
Bears and rustic cabin décor go together like a horse and carriage.
Black bears make country bedding fun, and you just can't go wrong with using bears with your other wildlife motifs—deer, moose or wolves.
If you have a rustic home, don't overlook the possibility of using bears in your décor, in at least one of your rooms.
Of course the bedroom is an easy one to start with, and bears just naturally go well in that room. Your cabin bear comforter will be center stage in your bedroom, and it could be the most important piece in the room.
Bear bedding comforter sets work well in many different rustic decors. Use a bear comforter in a log cabin, a rustic lodge, a timber frame fishing lodge or a lake cabin.
Pick a cabin bear bedding set or quilt that you like, and build your bedroom around it. Use sheets that complement your theme and accent pieces that will reflect your bedding theme.
Choose your bedding carefully, and you'll end up with a fun and interesting bedroom with a rustic bear décor!
Make sure you include at least some bears in your country home décor…
Bears, whether black bears, grizzly bears, polar bears, brown bears, Kodiak bears or teddy bears—all have a way of winning our hearts.
Of course, they're not so sweet when you see one in the wild, but they do have a definite charm when they are used in your country home décor…
Rustic Bedding with a Western Flair
Western bedding sets can put the finishing touches in your rustic bedroom decor. That's true, whether you live on a ranch in Montana or you have a timber frame home in the mountains.
You can choose to go with native American motifs and designs, horses, ranches, wolves or cacti. And there surely is a designer cabin comforter that will work in your Western décor.
Western theme bedding will complete the Western décor in your bedroom. Remember that you will see your designer comforter the first thing in the morning—and the last thing at night.
Your log cabin or timber lodge will be enhanced by the rustic appeal of western bedding. And the cowboys in your home will go to sleep—tired but happy, under their cowboy comforters.
Wolf Bedding
Although sometimes hard to find, wolf bedding can add pizazz to your western, wildlife or nature décor. Combining wolf comforters and throws with other nature or wildlife theme items works well.
And wolves are such interesting creatures that you can even use wolves as the main theme for your home décor.
Pictures of wolf packs and wolf pups can make your comforter or bedding very engaging. And wolves bring to mind northern lodges and hunting camps.
Wolf bedding can have wolf packs, wolf pups or a lone wolf, howling at the moon…
Wolves travel in packs and they mate for life. They care for their young together, and, as such wolves have a community. We could learn a lot from wolves!
When you use wolves in your bedroom décor, you add rustic appeal and interest to your room. And there are so many fascinating pictures of wolves on cabin bedding.
You can choose a ferocious wolf baring his teeth, or a gentle wolf caring for her pups. Or even a whole pack of wolves, howling at the moon together, on your designer wolf bedding!
Choosing Wolf Bedding
The fabrics you choose will influence the look of your room. If you choose soft, shiny fabrics, your bedroom décor will be more formal than if you choose fleece, hand woven linens or heavier fabrics.
And colors will also influence the look of your rustic décor. For an outdoors look, choose colors that reflect nature, as opposed to bright colors that you don't see in natural settings.
However, in the end, the most important factor—is what you like the best!
Lake House Bedding
Create a seaside retreat in your coastal timber frame or log cabin using nautical comforters in your bedroom. In fact, you don't have to live on the water to have fun with a "nautical" decorating theme.
Your comforter is the theme setter in the bedroom. It is front and center in your bedroom, and it is the largest eye catcher.
Choose a color scheme for your bedroom that is pleasing to the eye and reflects your love of boats, fish or the sea.
And make sure that you carry your theme throughout the room, with your choice of decorative pillows, curtains, and wall décor.
Whether you choose a rustic dockside theme, or a whimsical tropical fish theme, you can easily get the atmosphere that you want—and you'll enjoy it for years!
Beach Scene Nautical Bedding
Beach scene bedding works well whether you are decorating a beach house or vacation home, or you are simply bringing some seaside fun to your log or timber home.
No matter what it is that you love about the beach, you are sure to find beach bedding that will remind you of fun vacations.
Beach scene bedding is uplifting and fun!
It brings back memories of building castles in the sand and lazy days reading on the beach. Picture riding the waves, the sound of waves lapping on the shore, seagulls sounding off in the distance, and watching the full moon over the ocean after dark.
Beach bedding takes center stage in your bedroom. Whether you choose calming palm trees or bright tropical colors and whimsical scenes, you will love being in your beach scene bedroom!
Keep your theme simple, and choose colors that are complementary.
And most of all, choose beach bedding that reminds you of the seaside things that you love…
Year Round Beach Living
Don't forget to use beach scene bedding when you outfit your beach cabin or cottage. A bright beach quilt or comforter will set a festive tone for your bedroom.
In fact, if you do it right, you can almost hear the sound of the steel drum bands of the Caribbean when you walk into the room!
Smell the sea air and feel the ocean breezes as you enjoy your tropical paradise, regardless of where your home is actually located.
And don't forget to keep things casual. This is not meant to be a formal setting. Being at the beach is fun, leisurely and relaxing. Make your bedroom a place where you can kick back and relax…
Decorating your beach house, coastal cabin or seaside post and beam home with beach decor is fun!
For the Fishermen in Your Family
A fish comforter is the perfect bedding for your rustic fishing lodge. If you are decorating a waterside cabin, you will need to choose the right fish bedding for your lake house décor.
When you visit a fishing lodge, you just expect everything to reflect fishing. That includes decorating the bedrooms with a fishing theme comforter.
But don't limit your lake house décor to just fish.
You can also use home accessories that include fishing rods, fishing reels, old fashioned wicker fishing creels, fishing vests and fishing lures.
Remember to include pictures of the big catch! Or the big one that didn't get away — that trophy fish mounted on the wall…
Photos of boats and lakes or rivers will also go well with your bedroom fishing décor. Just remember that you need to start by choosing the largest piece in the room—your rustic fishing comforter!
Christmas Bedding
Christmas bedding and comforters can make your Christmas traditions special and your log home, picture perfect!
Consider using novel Christmas bedding to spruce up your bedroom for the winter months. There are so many cute and beautiful country comforters that are perfect for the Christmas season.
Have you even been in a log cabin or lodge at Christmas that wasn't decorated? If you have, it was a highly unusual experience!
Log cabins and timber lodges are just synonymous with Christmas décor. In fact, Christmas holidays in your lodge or cabin will be the most memorable time of the year—every year!
So don't neglect the bedroom. Fill your private space with color and beauty, and make sure you have a special Christmas comforter or quilt to celebrate the season!
Most people have fun decorating the common areas of their home. But don't forget that the bedroom area is the perfect place for private and special Christmas holiday décor.
Reserve your private bedroom area for special decorations and Christmas bedding, that you can enjoy with your significant other…
Moose Rustic Bedding
A Moose comforter is a fun addition to a wildlife or country décor. If you have ever seen a moose in the wild, I can say with assurance that you are hooked!
Moose are one of the most magnificent creatures that you can observe outdoors. And if you don't know where to look, they can be difficult to find.
However, you can enjoy the North Woods look right in your own cabin or lodge, by adding a moose touch here and there…
Moose in your Bedroom
Using a moose comforter in your bedroom décor can add rustic interest. And moose comforters can give your bedroom rustic charm, whether your theme is Northwoods, moose or wildlife decor.
Moose are part of the romance of being outdoors. And using moose in your decorating scheme, brings the great outdoors into your home.
These magnificent creatures bring to mind quiet nights around the campfire while camping, hiking in the wild, and gentle mornings near the lake, where a glimpse of a moose is captured.
Your Moose will Steal the Show
Let's face it. When you think of Maine, New Hampshire, Vermont, or any of the Canadian provinces, you also think of moose.
If you've ever seen a moose up close, they are BIG! And they are curious creatures who will stand watching you for a while—even if you get pretty close to them!
Use moose in your bedroom cabin décor, especially a moose comforter or bedding, to add rustic charm and a feeling of truly being close to nature…
Often moose comforters have a whimsical look and they add lightness and fun to your bedroom.
Even though we don't see them very often, when you do see one, it's an event! It's really exciting, and an experience that you will be talking about—for years to come!
Of course you don't have to use moose exclusively in your bedroom theme. You might try moose and bear bedding or a moose and deer comforter set.
Just make sure that you stick to the theme that you've selected, for a consistent look…