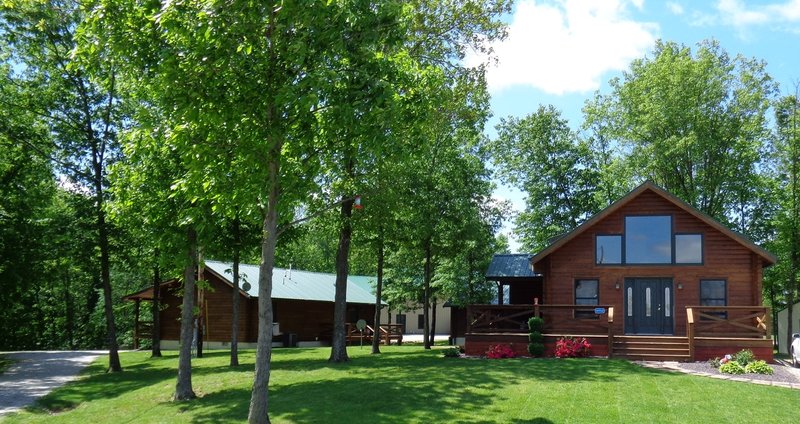 The Not So Big House, by Sarah Susanka has had a tremendous influence on new custom architectural home plans.
These features, which emphasize quality over quantity, can enhance anyone's home.
And, if you are willing to compromise on the size of your home, eliminating unused areas, you can end up with a lovely home with interesting architectural features, that you'll enjoy sharing with friends and family.
You don't have to be building a new house to use these principles, though.
If you are remodeling your existing home, you are just making a few changes to your home or you want to create a relaxing space in your backyard, you will find ideas that will help you get what you want.
Take the time to think your plans through carefully, so you can include details that your family will enjoy for years to come!
This photo was taken inside a home built with the Not so Big principles.
The open floor concept and architectural features in the next room create interest.
The home uses the Not So Big House concept, drawing visual interest into the next room.
Despite its openness, the home has a cozy feeling and a sunny bright disposition.
Features of The Not So Big House
What's wrong with all the huge houses that we've built in the last few years? Most of them have a number of rooms that are never used. Instead of being built to be comfortable and inviting, most were built to be big and impressive. And that just doesn't serve our families' needs.
Sarah Susanka, experienced architect and a leader in her field, sees home design a different way. Your home should be an expression of who you are and how you live. It should be comforting, functional and inviting. And it should fit your family's individual needs.
Everyone has a different lifestyle, which is why a cookie cutter development of homes probably won't include your perfect dream house!
Does Sarah advocate small, cheap houses? Absolutely not. While her designs are smaller (averaging just over 2000 square feet), they are high quality homes, with delightful details that you don't often see in homes this size.
In addition, they include quality materials, and they may cost quite a bit more than you would expect. So you are exchanging quantity (square footage) for quality.
A Not So Big House uses a room for multiple purposes.
This room has a washer and dryer with storage shelves above them, a large pantry behind mirrored doors (that make the room look larger) and a freezer for long term food storage.
The room also has a space next to the washer for storing the ironing board, and space to iron.
Last but not least, the photo was taken from an outside door.
This room also serves as a mud room. Notice the sink in the corner. This keeps any dirt from gardening outside the main house.
Talk about getting mileage from a small space!
Create Comfort in your New Home
Variations in ceiling height give a feeling of intimacy in rooms where the ceiling is lower. Rooms and furniture are arranged to promote intimacy for small gatherings.
The room should be sized so that furniture is close enough for visiting. Alcoves or window seats provide places to be alone, with a little privacy.
Quality over Quantity
Rooms that are needed are included, and extra rooms are excluded. High end building materials are used, and architectural niceties included. Little details that make the house distinctive are worth the extra cost.
Multiple Uses for Each Room
If a room can serve several purposes, so much the better!
For example, the photo above shows a room that serves as a mud room, a laundry room and includes a large pantry with sliding glass doors.
This room is used often, and it eliminated the need for 3 separate rooms.
Built to Last
Unlike stick built homes with 2×4 skeletons, post and beam, timber frame, structural insulated panel homes and log homes are built to last—for generations.
Using quality materials and building techniques will give you a more comfortable (and often quieter) home.
Look to the Future
If you are nearing retirement age or are empty nesters, consider incorporating universal design features into your new home.
Including disability features when you build, will help you stay in your home longer as you age—often for years longer!
And the cost of adding these features is minimal when you add them now.
Importance of the Kitchen
Just like it was generations ago, the kitchen remains the center of activity for many families. It isn't just for cooking and baking.
It's a place where we talk together, share secrets and dreams, have a cup of coffee together and even where most of your company ends up during a party.
Make sure your kitchen design allows for kitchen gatherings!
Log Home Lighting
Using natural light is a way to shave your electric bills, but it is also much more. It is brighter than artificial lighting, healthier and helps us stay upbeat in the middle of winter.
Vary the Ceiling Heights in Rooms
Varying the ceiling heights helps to define spaces. A higher ceiling makes a room feel larger, and a lower ceiling makes it feel smaller and more intimate.
Building a new home is more complicated than just finding a house plan with the right square footage and the rooms in the right places.
Right now, while you are still in the planning stages, is the best time to tie down all the details that will make your home special and unique. And the details that will make your home a great fit for your family!