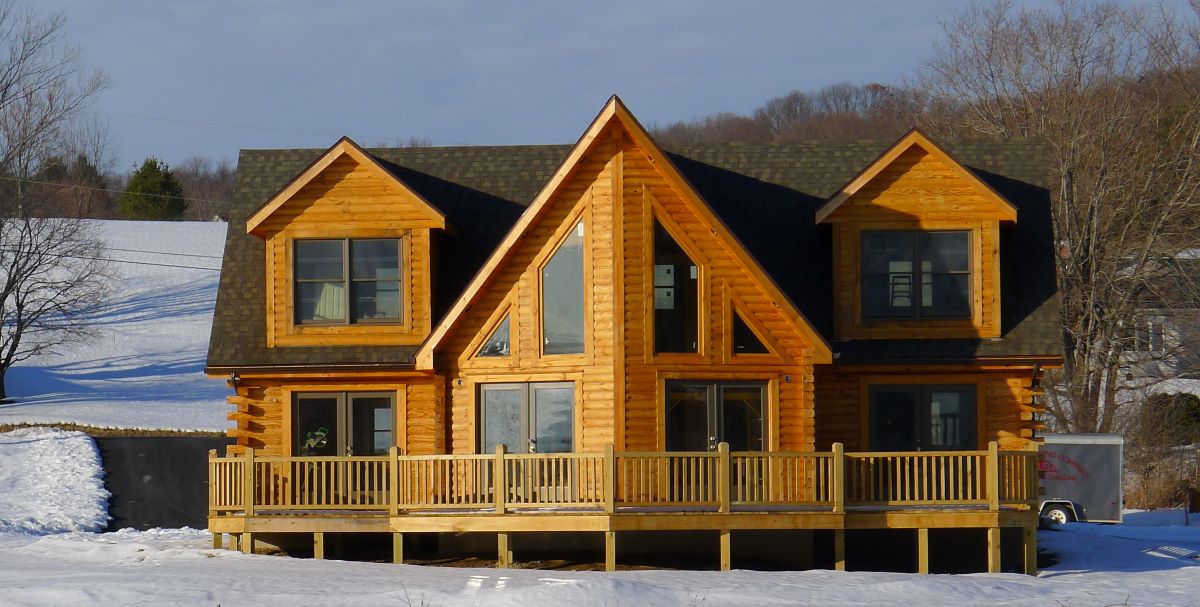 Mention rustic log homes and what do people think? They often picture a small log cabin, built for hunting or seasonal use, a log cabin in the woods.
But, the truth is that rustic log homes are no longer just for hunting, fishing and vacations. And they are not always small…
More and more, modern log homes are being built as primary residences, or as luxurious seasonal homes, by the water or in the mountains.
The truth is that many modern rustic log homes exceed 2000 square feet. And quite a few are between 4000 and 6000 square feet.
But, at the same time, many baby boomers who have always dreamed of living in a log home, are downsizing for retirement.
They are building smaller log homes, some under 2000 square feet.
Above to the right, you see the basic style log cabin that most people associated with rustic log homes, for years. It is still perfect for a small seasonal home or hunting or fishing cabin.
Log Home Designs
Modern log homes come in many shapes and sizes. They are designed to accommodate our modern casual lifestyles.
Instead of the traditional looking rectangular log cabin with a front porch, you can build rustic log homes with total-surround porches, decks, and bump outs. Huge windows capture the views.
To give your new log home a more modern look, choose flat sided logs and squared off corners.
With a little paint, this treatment looks like New England clapboard siding.
And it will fit into any suburban neighborhood.
And, whether you are building a huge log home that will house dozens of friends and relatives, or a smaller retirement log home, you don't have to sacrifice modern conveniences.
You can still have a beautiful and functional kitchen and a luxurious bath with all the amenities!
Today, you can build a log home of any size, and the design can be as complicated as you would like it to be. Luxury rustic log homes do not have to be rough–they can be comfortable and elegant, with rustic appeal!
Insulating Qualities of Log Homes
Logs have some natural insulating value, but there are ways to achieve the "log look" and have a warmer, cozier home. Using log siding with Structural Insulated Panels (SIPs) will increase the R-value to 30 for the walls and 40 or more, for the roof (shingles, not log siding, for the roof).
Modern rustic log homes come in kits or log home packages. Crockett Log and Timber Homes, for example, includes the logs, high quality energy efficient windows, doors, sub flooring and roofing in its kits.
Care is taken to insure that new log homes are now energy efficient! No more leaks and drafts.