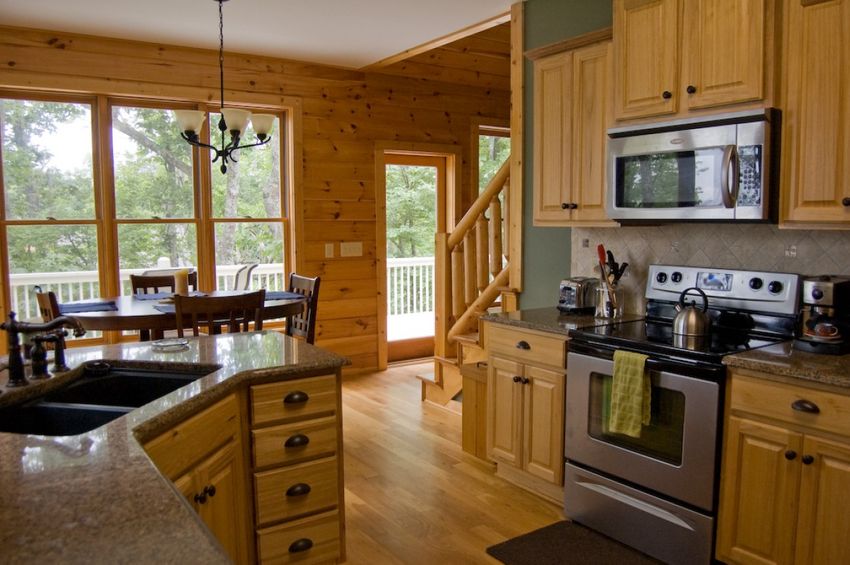 The 7 Most Important Features of Log Home Kitchens
Features of log home kitchens require that you use more imagination and creativity when laying out the plans for your new log home.
Rustic kitchen design, while similar in many ways to conventional kitchen design, requires a bit more imagination and creativity.
Address the 7 most important features of a rustic log kitchen, and your new log home kitchen will be a dream kitchen, with everything you need and want!
Log home kitchens, just like the kitchens of yesteryear, are the heart of the home. And they are also the center of entertainment. Have you ever entertained without serving food?
Because of the open floor design of most log and timber homes, the kitchen is visible to family and friends, from other rooms or sitting areas.
The open floor plan of this log home invites interaction with the cook.
Food preparers can still be part of the conversation in the Great Room sitting area, and they are part of the fun!
The Big 7 – Features of Log Home Kitchens
When planning your rustic kitchen, keep these important areas in mind:
#1 Logs or No Logs
Logs are both decorative and functional. But they can also get in the way.
For example, while it is possible to install straight back cabinets to a bumpy log wall, it is more challenging and will take more time.
On the other hand, decorative log beams and posts can enhance the look of your rustic kitchen. And log or timber posts can actually help define the boundaries of your kitchen area.
If you decide to include logs in your rustic kitchen design, consider using painted cabinets or light and dark woods to provide a contrast with the wood of your logs or timber beams.
Logs can be incorporated into a log home in a number of ways. The clever design in the photo above, includes logs in the island.
The hanging lights over the island provide light for work and dining, and the indirect lighting above the window, is a pretty backdrop for the decorative metal art above the window.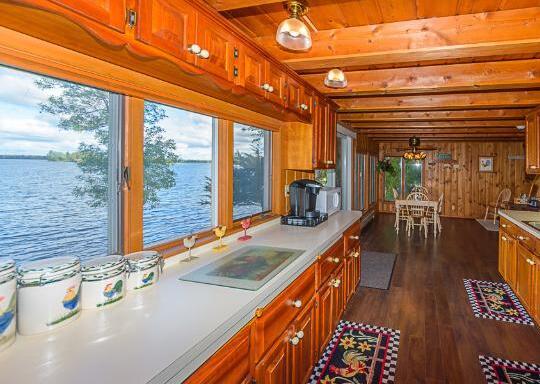 Wood, whether logs, timbers or tongue and groove boards, absorbs light. For many homeowners who build a log home, this is a surprise.
You dream for months (or years) of your beautiful log home—only to discover that it's dark in your kitchen after sundown.
Plan ahead, and your home will be light and cheery—any time of the day.
So how do you do that? Natural lighting will give you lots of light during daylight hours, if you make sure to install a large window or skylight in your kitchen area.
Consider how windows will affect your rustic kitchen design. In the photo to the right, windows replace possible cabinets for storage.
Task lighting, or lights that are place in work or dining areas can give you needed lighting after dark. For general lighting, consider overhead lights in the center of your kitchen, if your ceiling is lower than a cathedral ceiling.
Lights placed under the cabinets (or over them) lend a nice ambiance when you are entertaining, and they help to brighten the kitchen area.
In addition, you can lighten and brighten your kitchen with a tile backsplash, a light colored tile floor or a drywall ceiling painted white.
#3 Your Rustic Kitchen Design Layout
Since most log or timber homes have an open floor plan, you will need to design your kitchen with this in mind.
Your kitchen will be front and center, so your kitchen design will affect how your kitchen is used.
Wil you use it for entertaining or strictly for cooking?
In addition, the kitchen layout will also help define where your kitchen begins and ends.
When planning your kitchen layout, consider how you will define areas. In the kitchen above, the large island separates the kitchen area from the other living areas, even though this is very open.
An island or counter can help define your kitchen, give you extra work space (or eating space) and also provide additional storage, if you use cabinets for the base.
Islands or counters with bar stools, invite guests to sit and talk with the cook, while he is working in the kitchen.
#4 Kitchen Storage
Another one of the features of log kitchens is that they have a premium for storage space.
One of the classic issues when you plan your rustic kitchen design, is where to store everything.
It is hard to visualize all the many kitchen things you'll need to store.
But it is important to make a list, and decide exactly how you will store everything.
In this photo you see lovely logs next to the windows and above the sink.
However, there is no space for cabinets or shelves for storage.
A pantry is a dream come true, if you can figure out where it would fit—and if you have the space. But, there are other ways to increase your storage space.
Consider building a counter or an island, using 42" tall kitchen cabinets. Your builder can top it with a pretty stone or faux stone counter.
Pots can be stored in large drawers, or consider a pretty and decorative pot rack that hangs over the stove or an island.
Open shelves are less expensive than cabinets with doors. And they make it very easy for guests to help with setting the table, serving food, etc.
#5 Plumbing and Electrical Features in Log Home Kitchens
I'm not suggesting that you need to do the blueprints for the plumbing and electrical plans for your home.
However, it is important that you know where you want sinks. Do you want an extra one in your island?
Where will you locate windows, appliances, etc.?
Pipes and wires are run before cabinets and appliances are installed. If you know exactly what you want, installation of plumbing and electrical features will go smoothly and take less time.
#6 The Cozy Factor
One of the reasons that we all love log homes is that they are so cozy and romantic! But, they don't get that way without a little help. Wood and stone are hard surfaces, often with severe angles.
And tall cathedral ceilings, while they give you the feeling of spaciousness and grandeur, don't give you the feeling of intimacy and coziness.
So what can you do to make your kitchen a gathering area, feel intimate and inviting?
Varying the height of ceilings gives the area with the lower ceiling a feeling of coziness and safety.
And providing bar stools for dining counters or an island, invites others to join the cook.
Under the counter lighting, a lower log ceiling and a sitting area for casual dining, help make this little kitchen a cozy one. The softness of the curtains (to the right of the kitchen) add to the feeling of privacy and intimacy, even though the floor plan is open.
#7 Add a Touch of Fun!
This is the kitchen that you have dreamed about for a long time. And, while it is true that decorating your kitchen will give it your personality, you will still need to consider adding some permanent fun features and color to your kitchen, and you will increase the enjoyment of spending time there.
One way to add color is to use molded cement counter-tops, in a more artistic approach. Cement counter-tops can be colored to match or contrast with other colors in your rustic kitchen design.
To go with your rustic kitchen cabinets, consider using natural materials like granite, tile or marble countertops. Kitchens are meant to be pretty, and they are not just for cooking anymore!
Don't Delay Your Rustic Kitchen Design Planning
Many rustic kitchen design ideas, like rustic kitchen cabinets, rustic ceiling fans, log home lighting, and rustic cabinet hardware, require installation by the builder.
So, if you do your homework, your log or timber home kitchen will come together painlessly. And it will insure that the building process will go smoothly, you won't have any unhappy surprises, and your home will be finished in a minimum of time, without costly delays.
Creating a country kitchen in a log home or timber frame home is more complicated than just buying a couple of throw rugs and kitchen towels.
But, when completed, your rustic kitchen will have the features that you want—and it will be consistent with the rest of your rustic home or lodge.