Pine cone dinnerware, lovely in its own right, is also the perfect complement for Northwoods, wildlife or other rustic decors in log and timber frame homes. If you love the outdoors, pine cones are in!
Pair a casual pine cone dinnerware set with a pretty check tablecloth, a tablecloth with a small plaid or even with a tablecloth with a small print. Of course a plain color complements a pine cone pattern, as well!
Or, try using just place mats or a pretty table runner on your wood table, and let your rustic dinnerware take center stage without any competition!
Types of Rustic Designer Dinnerware
There are all kinds of rustic casual dinnerware sets, and there surely is at least one design that will strike your fancy.
And, of course, anything to do with the outdoors will be a good fit with pine cones!
You can choose the type of dishes that you want. You can get casual dinnerware that is stoneware, porcelain or even melamine.
Melamine dinnerware, while a step up from paper plates, is not as fancy as stoneware or porcelain. But it does have its place.
It is perfect for families with young children, for RVing, out on the deck, or for hunting and fishing camps.
This melamine dinnerware is available here.
Rustic casual dinnerware sets can set the mood of your dinner, whether romantic, fun or adventurous.
For example, you can choose your rustic dinnerware sets by theme, by colors, by texture and by style. There are rustic dinnerware sets for people who are hunters, fishermen, wildlife lovers and horse lovers.
Casual Dinnerware in a Rustic Setting
If you entertain often, rustic casual dinnerware sets can help you set the mood for your guests and keep it informal and fun.
However, if you're like me, you'll want to have more than one set of dishes. I love to use different dishes for all kinds of occasions!
For example, I have special rustic dinnerware that I use in the summer, Christmas dinnerware sets for the holidays, dishes with a leaf pattern for fall and snowman dinnerware that I use during the winter months for a cheery table.
I even have a few table settings of cabin dinnerware that I use for small but festive parties.
Set the mood when you set the table. Choose dinnerware that reflects your personality and the occasion!
Pine Cone Dinnerware for the Holidays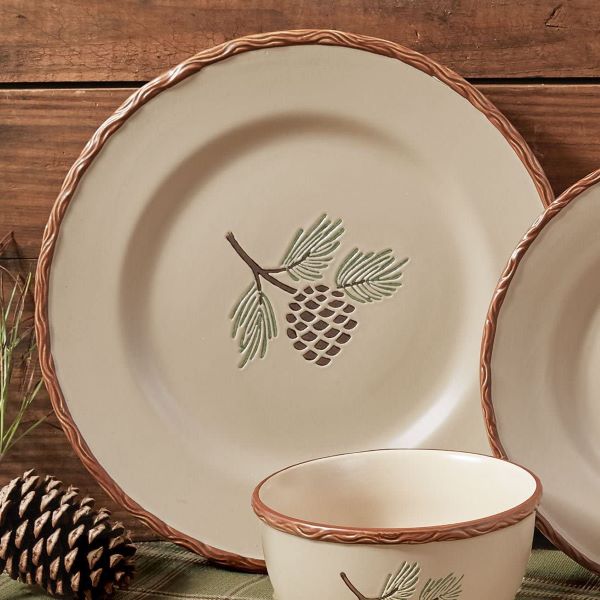 I have to admit that I've saved the very best for last.
The thing that I like the most about pine cone dinnerware is that you can use it for special occasions, especially Christmas.
We all decorate with pine cones and pine branches, whether real or artificial, at Christmastime.
So why not use pine cone dishes on your Christmas eve and Christmas dinner tables? They are a perfect complement to almost any holiday decor. And you don't have to limit their use to the holidays–you can continue to enjoy pinecone dinnerware throughout the rest of the year!
Place your pinecone plates on a red or red plaid tablecloth, and your guests will think that you bought your dinnerware just for the holidays!
But the secret is that you can use it every single day of the year, and it still looks special for your Christmas dinner!
This Northwoods pine cone dinnerware pattern is one of my very favorites. It can be used every day of the year, but it also makes a Christmas dinner extra special!
Make sure you include at least one nice rustic dinnerware set for your log or timber home.
Memories are made from the little details in life. Novel rustic dinnerware makes your guests feel special and welcome!