There are some country Christmas decorations that are usually found in log and timber homes. They are traditional, and you are probably already familiar with most of them.
While you do create your own traditions, you will probably want to include at least some of these items in your holiday decorating.
Most log cabin homes are decorated with rustic decorations, very much in tune with their everyday rustic décor. And, in fact, if you have a pinecone theme or a North Woods theme in your log or timber home, you can use many of your favorite decorative items as part of your holiday décor.
Don't put your favorite things away for the holidays—use them!
Here are some ideas for you to consider:
Candles as Christmas Decorations
Natural materials like holly and pine cones often complement a candle arrangement in country Christmas decorations.
Use pretty candles in every room of your home. They lend a gentle warmth and a bit of sparkling excitement and softened light, when they are used during the holidays.
Candles used to be used in Europe on Christmas trees, although I don't recommend doing that now, because of the danger of fire.
And candles are traditionally used as part of advent wreaths, another log cabin Christmas tradition.
Advent wreaths typically have one candle in the center, with 4 candles on the perimeter of the wreath.
Each week during advent, a new candle is lighted, awaiting the birthday of Christ.
A Nativity for the Holidays
A nativity is often the center of a family's country Christmas décorations.
Since the whole reason we have Christmas is the birthday of Jesus, it is only natural to include a nativity.
Often a nativity sits beneath the Christmas tree. But a nativity also can be used on a special table or on a chest of drawers, a buffet or a cabinet.
Add a little color to your nativity by including a fresh sprig of holly or a pine branch or two.
Wreaths as Country Christmas Decorations
Christmas wreaths in a shop, ready to be used as country Christmas decorations.
Wreaths that are made of natural materials or even those that look like they are made from natural materials.
They make great Christmas decorations for log and timber homes.
Wreaths, like pineapples in Colonial times, serve to welcome guests.
As welcoming agents, you can use them in various rooms of your home—and outside—on the side of your home, on windows and on fences or gates.
Traditional Santa or St. Nicholas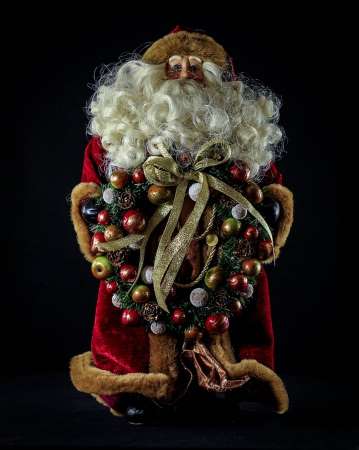 Every log home needs a traditional Santa.
Did you know that the traditional Santa actually was a real man?
St. Nicholas, a saint in the Roman Catholic Church, was a real person who did good deeds and helped others.
On Dec. 6, the Catholic Church celebrates St. Nicholas Day, and children traditionally receive a gift on that holiday.
Today, as you know, Santa also brings gifts to children (good children), and he rides in a sleigh with his reindeer.
It's a fun tradition, and your home should have at least one little Santa.
Traditional Santas, primitive Santas, antique Santas or rustic Santas all complement a rustic home décor.
Make Your Own Country Christmas Decorations
Homemade ornaments make Christmas special.
A country Christmas just demands that there be something homemade!
And it's such fun for family members to participate in making decorations and decorating your home.
This year, why not find some simple projects that you can make yourself, or with your children or grandchildren?
Plan to make some homemade country Christmas decorations for your home together!
Pine Cone or Northwoods Theme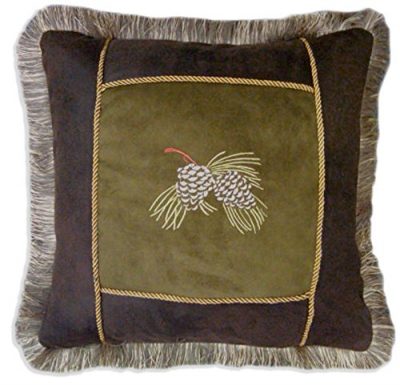 This pine cone pillow would make a fine Christmas accent piece.
Don't overlook your everyday rustic decor, when looking for country Christmas decorations.
Pillows, throws and other decorative accessories make lovely accent pieces for Christmas decorating.
Look for accent pieces that have a pine cone or Northwoods theme
If your regular home accessories fit well with a holiday theme, keep them in place instead of removing them.
Christmas holiday decorating is fun!
Keep your projects simple, though, so you can enjoy the holidays, and not feel that decorating is just another source of stress!