Why Wildlife Dinnerware?
Our fascination with wildlife goes back hundreds of years. While the earliest wildlife watchers were observing animals, learning how to capture them for food, modern day observers may not be hunters.
Truthfully, it's just fun to watch wildlife in your backyard or when you are staying in a cabin while on vacation. It's a leisure activity that young and old can enjoy together.
And, beyond observing animals in the wild, we like to adorn our home decor, like dinnerware, curtains and rugs with the animals that we love to watch.
Wildlife dinnerware is rustic and it brings a little of the outdoors into our homes.
It's a fun way to celebrate life and special occasions.
Use casual rustic dinnerware to dress your table up or down.
It's perfect for Thanksgiving, but you'll also enjoy using it for family everyday dinners.
Moose, bears and deer are most commonly seen on dinnerware sets.
The wildlife dinnerware that I've chosen to feature on my website represents my favorites. I hope you enjoy seeing them, too.
Bear Dinnerware
Bear dishes are fun in log or timber home settings, and bear dinnerware complements both Northwoods and wildlife themes.
Add a little spice to your table with a set of bear dishes!
Black bear dishes are very popular in log homes and timber frame lodges.
Black bears are common in many parts of the U.S.
Whether you have a bear hunter in the family or not, bears are popular–just because they are fun.
The dinnerware in this photo is available at Amazon.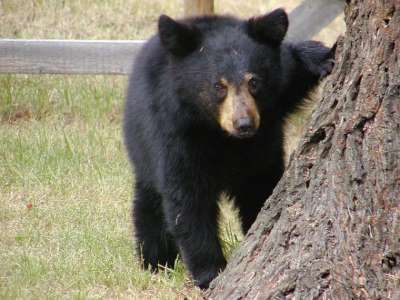 Bears are fun to watch and fun to see in the wild. Here in New England, they are fairly common.
Our black bears are fairly shy and seldom aggressive, that is, unless you come between a mama bear and her cubs.
You can see black bears in national parks, in the north eastern states and even as far south as the Smoky Mountains in Tennessee or Florida.
While they are fun to watch, bears can be destructive, and you have to be careful not to invite them to places where they can get into trouble.
Black bears will invade bird feeders to get the seeds. They will investigate chicken houses for easy meals. And they will rummage through trash bags looking for garbage dinners.
Bears who get into trouble with people are often put down, so it's best to watch from a distance–not tempting them to come closer.
So why do we see so many bears on our dinnerware and dishes? It's because they are so fascinating to watch. And such a thrill to see in the wild!
Moose Mania
Moose dinnerware is the perfect choice for your dining in a log or timber frame home, especially if you have chosen a Northwoods, wildlife or moose theme for your home.
What is it about moose that we love so well? Most of us have never seen one. Those who do see them, may see a moose once or twice a year.
Moose, while they really don't fear anything or anyone, just seem to prefer to be in places where they won't be disturbed.
In fact, moose don't really have any natural enemies. They simply mind their own business and tend to more interesting things–like finding good things to eat and drink.
Perhaps the fascination with moose lies in their elusiveness.
We rely mostly on our imagination about them, when we don't see them very often.
Moose dinnerware available at Black Forest.
Moose in Northwoods Decor
If you see a live moose, you are probably in New England, northern Michigan, Alaska or one of the northern states in the West.
You might see one if you were visiting the Rocky Mountains or the Grand Tetons and Yellowstone National Park.
Moose are commonly seen in Northwoods and Western decor.
They represent strength and majesty. They are fun to see, and we love to use them in our outdoor themed decor.
Moose are king of the woods in America. Perhaps that's why we love to use them in our homes and cabins when we decorate!