Link the Past with Your Future
Post and beam construction methods date back 300 years. A post and beam house is both sturdy and functional. The dramatic posts and beams are classic in their appeal and the structures are exceptionally strong!
Exactly like it sounds, post and beam construction is a system of building that has a framework made of vertical posts and horizontal beams.
The posts and beams are held together by lag bolts, spikes or metal brackets.
Sometimes wooden pegs (often oak) are used, decoratively, to give the post and beam structure the look of a timber frame home.
In a post and beam home, the pegs are not holding anything together.
In a post and beam house, unlike a timber frame home, the floors are each built independently—not all at once like in a timber frame house.
Difference Between Post and Beam and Timber Frame Homes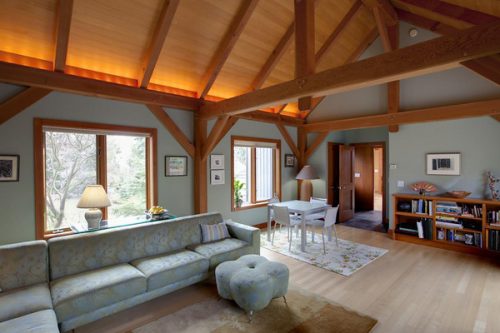 Most people can't tell a post and beam home from a timber frame home.
Timber frames are actually a special kind of post and beam construction.
While timber frames are constructed in the traditional way, with mortise and tenon joinery held together with wood pegs, post and beam homes use more modern ways of joinery.
Many post and beams are held together with metal hardware.
However, many people still choose to use wood pegs, decoratively—so their posts and beam homes can LOOK LIKE timber frame construction.
This great room addition was built using post and beam construction.
Benefits of Post and Beam Construction
There are some benefits to building Post and Beam houses:
Cost
These homes cost less than a timber frame home, but you can achieve the same "look".
Post and beam houses give budget conscious home buyers the look that they want—without the high cost!
House Strength and Longevity
Post and beam homes have stood the test of time.
Many colonial homes, built hundreds of years ago, are still in use. And, of course, we can find even older examples if we explore the European countries.
Green Building
Homes built this way have respect for the environment, mostly using materials that are eco-friendly and renewable.
As many building materials have become difficult to buy, wood and timber home materials will always be available, as long as we carefully replace them.
Energy Efficiency
Both timber frames and post and beam homes, using energy efficient windows and walls, are very energy efficient and money saving for energy costs.
Beauty of Wood Homes
Log and timber homes have natural beauty that can't be duplicated with man-made materials.
The Look of Post and Beam Construction
With all these advantages, you would think that a post and beam home would be obvious to the casual observer. Not so…
On the outside, post and beam homes look like any number of other homes. They can have log siding, vinyl siding, cement board siding, stucco, stone, clapboard—or any siding that you like. The beauty of the wood inside is not seen from the curb. You need to be inside to see how magnificent these homes are…
Post and beam houses are built to match the lifestyle of the owner. Some are built like mountain lodges or ski lodges. Others capture a rustic country spirit. Still others feel like an ocean side beach house.
But there is a well kept secret to post and beam construction. The magnificent beauty of the beams remains a secret to someone looking at your home from the curb!