Custom Log Homes from Log Cabin Kits?
Log cabin kit homes are very popular and come in every shape and size imaginable, from luxury log homes to tiny weekender log cabins or even rustic hunting lodges.
And fortunately, you can find log home prices for every budget. Gone are the days of trudging out into the woods to find logs for your log home.
Today you can have a log home of any shape or size, dictated only by your imagination and your budget.
Log homes are made from a package of building materials called a log home kit. This ranch type home is a simple design.
What are Log Cabin Kits?
Today log cabins and homes are usually built from log cabin kits. A log home kit simply contains the building materials for the shell (walls and roof) of your log home.
Depending on which company you buy your home from, the log home kit may also include windows and doors. This gives you a complete shell materials package.
Once erected, you will have a dried in shell. This simply means that when the shell is complete, your home is dry inside and protected from weather.
Log cabin kit homes (right photo) still need to be constructed by hand. It's not quite as easy as working with Lincoln Log toys!
When you are building a log home, make sure you ask the dealer to tell you (better yet–get it in writing!) exactly what is included in the log home package.
The costs for the land, septic system, well, site work, utility hookups and foundation are not included in your log home kit. However, you will want to budget for these.
Sometimes log home prices from one company sound lower than another. But do make sure that they are both including the same building materials.
For example, some companies include items like windows and doors, sub flooring, and roofing. Others do not. The quality of the windows and doors alone, can have a big impact on the quoted package cost!
You want to compare apples with apples and oranges with oranges!
Cozy Comfort In Your Log Home
No matter how large or small your log home is, one thing is certain.
A log home just oozes with down home comfort and coziness. The warmth of wood makes your home just feel homier…
Luxury log homes may be huge, but they still maintain that earthy feel.
Often luxury custom homes include natural materials like granite counter tops, natural metal finishes on fixtures, hardwood floors and upscale tile or slate floors.
Because log home kits are customized, some log home owners have even incorporated features like a real tree trunk into the design. This creates the feeling of integrating the home with nature outside.
Large windows also bring a connection to nature and the beautiful views outside your home. You can choose to use very large or custom made windows (with custom shapes) for your log cabin kit home.
Some homes are decorated with rustic touches, while others exhibit elegant luxury. Still others are strictly down home country, and totally casual.
Modern Log Cabin Kit Homes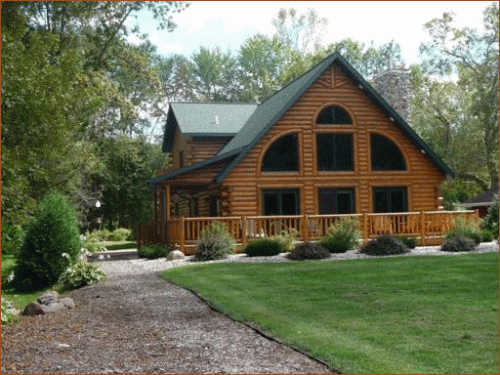 Log cabin kit homes are simply log homes built from log cabin kits that contain the materials needed to build the log house.
Log Home kits vary from company to company, and in the materials that are included, so be sure you know what you are getting when you purchase one.
Years ago, a home builder just went into the woods and chopped down trees for his log cabin.
Now we order shaped logs that have been kiln dried (the best companies do this), from a log home company.
Log cabins and homes today don't have the huge air leaks of yesteryear.
Your Log Home Kit
Log cabin kit homes arrive on large trucks like these.
Because the logs for your new log home are already shaped and uniform in size, you get a better product than you would have, years ago.
Precision cutting ensures that your logs fit together.
And some companies even ship logs that are "numbered" so that each log can go exactly where it is supposed to go.
And the factory pre-cut logs in log cabin home kits, fit together much better than the rough logs taken right from the woods.
Who Builds Log Cabin Kit Homes?
If you are wondering whether you have to get your tools together to physically build your new home, the answer is, "only if you want to".
Most people just don't have the time or inclination to tackle the building of a house, so you do have a number of options.
Here's how log cabins and log homes get built:
Owner Builder
If you have building experience, or you are adventurous and have the time, you can choose to oversee the entire process.
The log home kit is delivered by truck. In this case you will be supervising and hiring contractors yourself.
Shell Only
Some log home companies will construct the dried-in shell for you.
After the walls, roof, windows and doors are done, a local builder (or the homeowner) completes the interior and finishing work.
Turnkey
This means that you can move right in.
A local contractor completes the entire project, and you just write a check. Most people choose this option.
While it may cost more than trying to oversee the building yourself, an experienced builder will make sure that your house is constructed properly.
For many, it's worth it!
As you can see, there are a number of decisions to be made when you are considering building a log home.
Building log cabin kit homes is a specialty kind of building. If you are going to hire someone to build your home, you will need someone who has had experience building log homes.
And you will need to make a number of decisions early in the process, regarding your log home construction.
Beyond that, you need to know exactly what you want in your new home—and if you do, you will get exactly what you want.
Do your homework—you'll be glad you did!