There are numerous advantages to a post and beam house, not the least of which is the incredible beauty of the decorative posts and beams.
Quality Post and Beam Construction
A post and beam house uses post and beam construction, in the old New England tradition, dating back 300 years!
Many of those old New England structures are still in use today. And the construction methods remain very close to the original post and beam construction.
Post and beam homes offer a number of advantages—and the magnificent beauty of the interior exposed posts and beams is not the least of these.
The interior of a post and beam house is beautiful! The posts and beams are decorative, as well as structural.
What is a Post and Beam Home?
Post and beam construction is exactly what it sounds like. There are large vertical posts that are placed strategically to support large horizontal beams.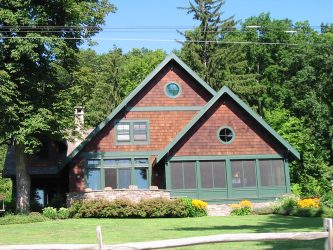 The posts and beams are held together by lag bolts, spikes or braces. Sometimes decorative wooden pegs are used to give the home the look of a timber frame house.
In addition to the posts and beams, some companies are now using SIPs (structural insulated panels) for the walls and roofs of their post and beam homes. The structural insulated panels are used as the supports or "posts". Beams are laid on top of the panels, and decorative posts are used in the corners and other strategic locations.
Structural insulated panels give the home an extraordinary energy efficiency, and they add strength to the already extra strong structure!
A post and beam house looks like any other nice home on the outside. You can make it rustic and rugged looking, or refined and modern looking.
Advantages of a Post and Beam House
If you are thinking of building a post and beam house, you'll want to consider why this type home is appealing to you.
Here are some reasons that other home owners choose post and beam construction.
Strength
A post and beam house or barn is very strong. Many have remained standing (and are still in use) after 300 years. Despite storms and other severe weather conditions.
Green Building
Wood is one of the original green building materials. It is a renewable resource and is eco-friendly. If you have allergies, you can avoid many of the chemicals found in building materials by using natural materials like wood.
Cost of Your New Home
Properly designed, a post and beam house can resemble a timber frame home, but it costs about 5% less to build.
If you are budget-conscious (and who isn't), a post and beam house can give you the look that you want—without breaking the budget.
Energy Efficiency
When you use structural insulated panels in your post and beam house, energy efficiency just doesn't get any better.
Many people building today decide to use alternative energy sources when building their new homes.
SIPs panels make it possible to be energy self-sufficient or almost energy self-sufficient.
Beauty of Wood
Using large posts and beams in your home adds beauty that just can't be duplicated with man made materials.
A post and beam house can be built in every imaginable size and shape. Your new home could look like a mountain lodge, a ski lodge, a barn home, a rustic get-away or a beach house.
You are limited only by your imagination, for the design of your post and beam house.