Log home lighting can be challenging, as log walls absorb light and lighting fixtures are difficult to add after the home is built.
Of course the best time to add lighting fixtures to your log or timber home, is when it is being built. So it's important to map out your lighting plan long before the builder breaks ground for your new home.
That's because the wiring can be concealed in the walls when lighting is installed during construction.
Later, when walls and cabinets have been completed, installation will require an external channel to conceal the wires, and it will look rigged. Or, you may just have to let the wires be seen.
Neither solution is very good. So, if you are in the planning stages of a new log or timber home, take special care to plan your lighting now.
Doing so will give you a well-thought out result, with years of pleasure in your well-lit home!
Is All Log Home Lighting the Same?
The short answer to that is "no". That's because you will use your rooms differently. Work areas like the kitchen or bathroom will need bright lights so you can see when you are preparing meals or shaving in the bathroom.
On the other hand, you might want to include softer lights in your bath, for times when you want to relax in the soaking tub.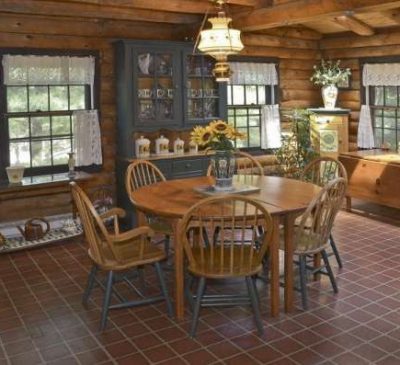 A pendant light like this one should be installed early in the building process.
In the common area, you might prefer indirect lighting or softer lights. Trying to have a conversation with someone when a bright light is shining in your eyes, is annoying, at best.
Reading areas will benefit from a lamp next to each chair. And bedrooms are usually fine with soft lighting from bedside lamps.
Hallways need light, and overhead lights serve well to illuminate them.
These ideas for cabin lighting should help you get started…
Types of Rustic Log Cabin Lighting
Lighting your log cabin or timber home will give it the cozy feeling that we all associate with log and timber homes. And there are a few tricks to doing it right.
Wall Lighting with Sconces
Sconces should be installed when building your home. They are hard-wired and have wires that will be hidden in tracts in the walls.
Use wall lighting to illuminate a dark area, to accent a painting or sculpture or in a hallway to provide lighting.
Sconces are also a nice accent on either side of a fireplace or in a dining area to provide soft accent lighting.
The wall sconces in the photo to the left, make nice log home lighting on the fireplace for casual evenings with friends.
They had to be installed during construction of the fireplace of this log home.
Rustic Table Lamps
Table lamps can be added at any time.
Lamps provide task lighting for reading or working on projects.
Or you can illuminate a dark area with the softer light of a table lamp, as long as you have a piece of furniture to set the lamp on.
For example, when you are entertaining guests, a room is cozier when you light a couple of light than when you use a bright overhead light for ambient lighting.
Table lamps are also a way to express your home's theme. You'll find all kinds of themes, from cute little bears to pine cone or forest motifs.
This moose leg lamp is a good example of rustic log home lighting. It is in the hunting lodge of a hunter friend in Maine.
Chandeliers
There are so many cool chandeliers in many rustic themes!
Chandeliers should be installed when you build. And, if you choose carefully, they add so much charm and character to your home!
Chandeliers are the show pieces of a log or timber home.
Do your homework and pick your lighting carefully. A properly chosen chandelier will easily become a focal point of a room and a conversation starter!
Deer antler chandeliers are one of the most popular kinds of rustic chandelier seen in log cabins and timber frame homes.
This rustic chandelier with a moose and trees, is an example of rustic log home lighting.
Rustic Ceiling Fans
Ceiling fans are nice to include, as they add comfort to your home.
Often, depending on where you live, you can open the windows and enjoy fresh air (instead of air conditioning), if you have ceiling fans.
If you want a log cabin specialty ceiling fan, such as an antler ceiling fan, you'll need to shop online or at a specialty cabin shop.
A rustic antler ceiling fan does double duty as a fan for hot summer days or to circulate heat and as log home lighting.
Candles and Luminaries
If you just need a little more light, or you want to make your home more festive for a party, try using decorative candles and lanterns.
Candles add soft lighting and intimate ambience to your rooms.
Use them to soften the lighting and to give you a warm and charming setting.
You'll be surprised at how cozy they make your home feel…
Vanity Lights
Vanity lights are used in bathrooms above the sinks and vanities.
These lights come in a number of cute themes, and you should use some thought in choosing the lights over your vanity.
You will spend a fair amount of time each day in your bathroom, and your guests will have lots of time to look around in the the guest bathroom! So make sure that you are happy with your choices.
Rustic Ceiling Light Fixtures
This is the kind of built-in light that you see on ceilings in many homes. They are often round or square.
However, you don't have to settle for plain round or square ceiling lights in your rooms.
With a little research, you will be able to find ceiling lights with bears, trees, fish, etc.
Flush ceiling light fixtures are not usually used in the great room or main living area. However, you might use ceiling light fixtures in a bedroom, kitchen, bathroom or hall.
Ceiling Lights with Patterns and Figures
You may find rustic ceiling fixtures with patterns stamped into the metal of the fixture, or with pictures on the glass sections of the lights.
This is a great way to carry out your moose, deer, pinecone or fish theme! Using this kind of rustic lighting gives your home the little details that make it stand out from the crowd.
Floor Lamps
You can add floor lamps at any time, because they stand alone.
You will find that, in rustic settings, they often add interest as well as light.
Floor lamps come in all shapes and sizes and add character to your log or timber home!
Pendants
Often used as accent lighting, lamp pendants are nice in a dark corner or over an island in the kitchen area.
We see pendant lights used to illuminate working and eating areas. Often they are used in a group, like the three pendants in the photo to the left.
The selection for pendant lights is good, and you can find really cute pendants that will complement the themes in your log home rooms.
Monorail Lighting and Track Lighting
Not as decorative as some of the other lighting fixtures, monorail lighting is a great way to aim lights toward the decorative beams and trusses of your ceiling.
Use this kind of lighting as little spotlights to highlight the impressive features of your home!
Monorail lighting has its place, but it should not be the only lighting that you use. It is functional, but not really pretty or decorative.
Track lighting is perhaps a step down. It is used to direct light in different directions and to highlight features in your home.
Sometimes considered to look commercial, track lighting is not really attractive.
Recessed Lighting
You have certainly seen recessed lighting used somewhere, but it's not something that you remember as special.
Recessed light are usually little round lights built into the ceiling.
They can be used for lighting a work area in the kitchen or even as accent lighting. For example, you might see recessed lighting that is highlighting a favorite piece of art on the wall or in front of a fireplace.
Some recessed lights use LED lighting and they provide quite a lot of light for their size!
Rustic Lighting with Silhouettes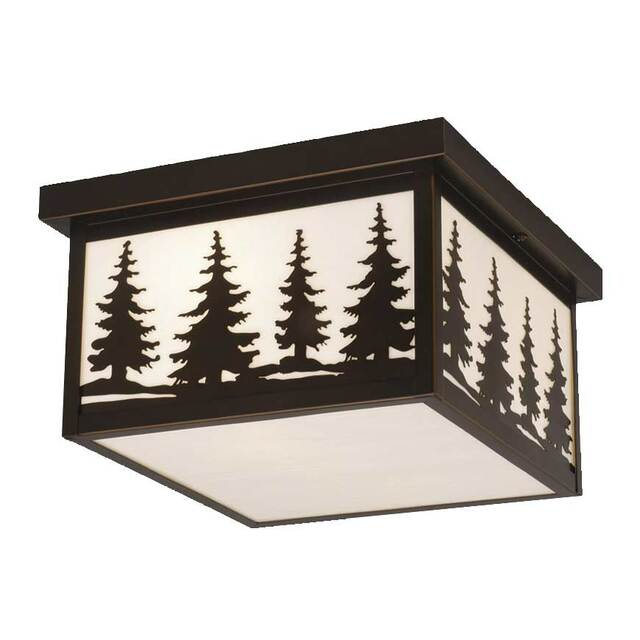 Some rustic cabin lighting fixtures have metal silhouettes.
The silhouettes reflect a number of rustic décor themes—moose, fish, canoes, pine cones, horses, bears or deer.
And the simplicity makes them a nice addition to a log or timber home.
The flush mount ceiling on the light has evergreen tree silhouettes that can be used with any outdoor theme.
You can purchase this light at Black Forest.
As you can see, you have quite a few choices when it comes to log home lighting. Some can be added at any time, but there are many that you will have to install when building your home.
While it may be difficult to visualize what your rooms will look like when your home is finished, it is important that you choose your light fixtures and ceiling fans with lights—before you build your home.
Because running electrical wires through a log or timber home can be complicated, at best, the most economical way to do it is when you are building your home—not later!
The best time to choose cabin lighting is when you are planning to build a home. That way you can make sure there is adequate space for your chosen light fixtures and that the electrical wires to them, and their switches, can be put in place (and out of sight) while your home is under construction.
Keep your decorating theme in mind, and you'll find that the log cabin lighting that you choose, will greatly enhance the comfort and beauty of your log or timber home!