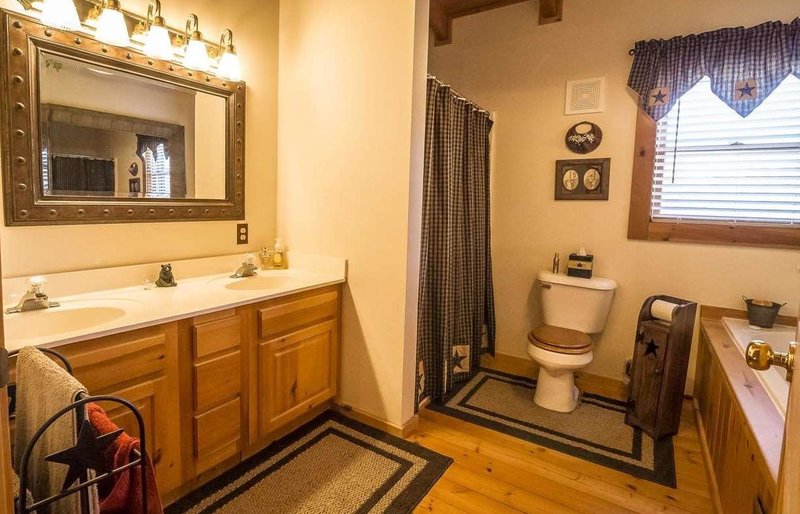 Bathroom curtains for log homes do not have to be hum drum, and you can use them to coordinate your master bedroom with your bath.
Window treatments or bathroom curtains for log homes do need to provide privacy and a feeling of comfort in the bath.
Depending on where you live, and how much privacy you have, you may want to use cafe or tier curtains and a valence, sheers or just a cute valence to brighten your bath.
When shopping for bathroom window treatments, keep in mind that sometimes matching tiers are available, even if the photo only shows a valence.
How to Choose Bathroom Window Treatments
Bathroom window treatments can be simply decorative and fun, or very practical and maintenance-free.
In addition, window treatments for the bath need to be able to handle extremes of temperature and moisture.
This cute moose valence can be used in a number of places but, used alone, it could be used as bathroom window treatment.
Pair it with long curtains and coordinate your bathroom and master bedroom for great Northwoods rustic appeal.
You can purchase this valance at Amazon.
V Shaped Valance
A v-shaped valance, used as a bathroom window treatment, works well with a shade or Venetian blinds for privacy.
An interesting valance, like the V-shaped western star shown here, can add interest to your bath, and it can draw attention to a specific window.
Use a valance with a shade (that can be hidden behind the valance in the daytime) or blinds for privacy.
To coordinate the looks of your bedroom and bathroom, use the same valance in both rooms.
In the bedroom you might use long curtains with the valance to provide privacy and darkness for sleeping
You can purchase this Brown Mustang Star valance at Black Forest.
More Tips on Log Cabin Window Treatments
Self Adhering Vinyl Sheets
Certainly not as tacky as it sounds, vinyl sheeting does have a place in some bathrooms.
These vinyl sheets actually resemble etched glass and they can be attached to a window to provide privacy.
Of course you wouldn't want to use this approach if you had a pretty view from your bathroom.
This works best for windows with an ugly view or where your bathroom window is seen easily by others, as in a neighborhood with houses that are close together.
Of course this works best for windows with an ugly view or where your bathroom window is seen easily by others.
This Etched Leaf Window Film is an example of this product. It does not use adhesives, and it can be easily removed if you decide to do so later.
Shutters in a Log Home Bathroom
Of course not everyone wants to have curtains in their bathroom. Some prefer the clean look of shutters instead of the billowing curtains that are more traditional.
Shutters can provide character and privacy in a bathroom. Use them with or without a valence.
Fabric Curtains
Fabric curtains certainly have a place in a log home bath.
Using fabric curtains in a bath helps to offset the look of hard surfaces and sharp angles, and it adds softness to your room.
Pay attention to the style of curtains that you choose for the bathroom.
Window sill length curtains are better than floor length, as they won't become soiled when you wash the floor frequently.
Choose fabrics that are washable, for easy care.
Stained Glass Window Hanging
So what if you don't want curtains hanging in your rustic bathroom? There is yet another solution.
Hang a beautiful stained glass piece like this Tiffany-Style Stained Glass Window hanging like this one, in your bathroom window, both for beauty and for privacy.
This would be lovely in a hunting lodge bathroom or in a large country log home.
A stained glass window panel provides privacy, lets light through to the room, and it adds a cheerful color to the room.
Your bathroom is a refuge, a place where you can relax in the tub after a long hard day. Choose colors, fabrics and accessories that uplift you and make you feel good.
Make it totally yours…