Unlike chandeliers, which provide ambient light in a room, pendant light fixtures can double as decorative lights and also provide functional task lighting.
Depending on where you place them, pendant lights will give you concentrated light where you need it—whether to prepare dinner in the kitchen or read a book in a quiet corner.
Pendants vs. Chandeliers
Like a chandelier, a pendant hangs from the ceiling. It can hang from a metal rod, chain or a cord.
However, unlike a chandelier with its multiple branches and lights, a pendant has one cord or chain that holds one, or sometimes two, lights.
Traditionally, pendants tend to be more modern and less fancy than chandeliers. And they can be used in any room of your log or timber home.
Pendants can be used alone, or sometimes they are used in a grouping, like over a dining area or kitchen island.
Chandeliers are usually used alone, and they are the focal point of a room, pulling it together and giving it a sense of style. Chandeliers give you more light than a single pendant, partly because they often have multiple bulbs or lights. They are the WOW for a room, which is why we use them!
Pendants are lighter in weight than chandeliers, smaller and they cost less than chandeliers. In addition, they tend to be a bit more modern than the more traditional chandelier lights.
How to Use Pendant Lights
Pendants can be used to establish a mood in a room; however, they are often used for task lighting, or to provide light for you to do something.
That includes reading, working in the kitchen, eating at an island or counter or playing games at a game table.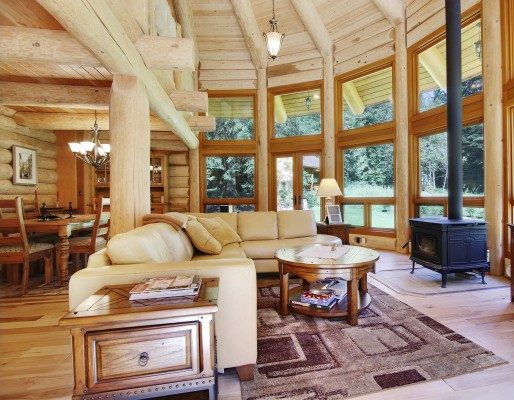 You can use a pendant alone to illuminate a special item on a table or over a chair for reading.
Or consider using several in a row over an island or counter. To light a larger area with pendant lights, hang a group of pendant lights at varying heights.
In this photo we see an example of a pendant light that is too small for the great room.
While the pendant is attractive, a larger chandelier would be better for this space.
However, the chandelier in the background, over the dining table, is sized nicely and is perfect for its location.
Pendant light fixtures come in different styles, and you should choose the kind you want, based on what kind of mood or light you need in a room.
Two common styles are blown glass and single lamp shade. The blown glass style lets light shine through it, while a lamp shade may prevent light from shining through the sides, so it can direct lighting downward to a work surface.
Pendants in the Kitchen
Even though you can use pendant lighting in any room, we most often find them as kitchen light fixtures or over a bar, in log or timber homes.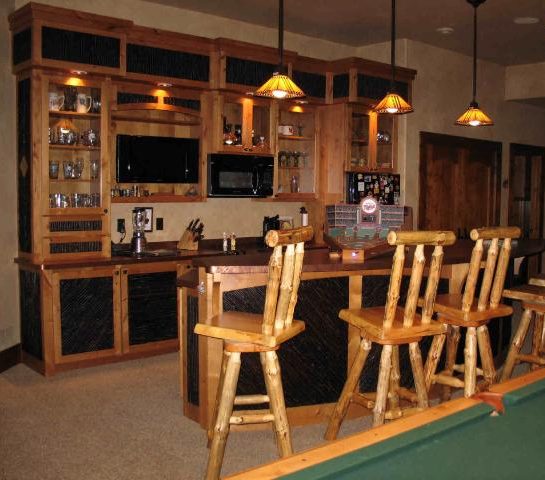 In this photo, you see pendant lights spaced evenly above the bar counter, and they provide decorative light for seating at the bar.
Often we see a row of 3 pendant lights used in the kitchen, above an island or counter seating area, or in a bar like you see in this photo.
Sometimes pendant lights are even used in a dining area, over the dining table. 
If you decide to do this, make sure you hang the lights so they don't shine in people's eyes.
The lights also need to be high enough so they don't block the view of the person across from you.
Pro and Cons of Pendants
As with everything, there are pros and cons to using pendants in your log home. Here are some thoughts to consider:
Pendant light fixtures are very versatile. You can use them in every room of your home, singly or in rows or groups.
Depending on the style of a pendant, you can use it for mood setting or for illuminating work or play areas. They give you light to work, but they are not as harsh as a spotlight.
Pendant lights can be installed at any height if the chain is lengthened or shortened.
They do not take up a lot of space.
Even though you can install several, pendants may not give you enough light to sufficiently illuminate the whole room. Pendant lighting often uses smaller or low wattage bulbs in each fixture.
Pendants often use specialty bulbs which are more expensive.
If you are handy, you may be able to install pendant lights yourself.
Just like chandeliers, pendant lighting does have a place in log homes. Pendants are no longer boring and uninspired, as we often see them with cute designs and in interesting shapes.
Using a few here and there in your log or timber home will add interest and spark to an area that would otherwise seem boring and uninspired.
Make sure you include a few pendants when you are planning your new home or remodeling your older home!