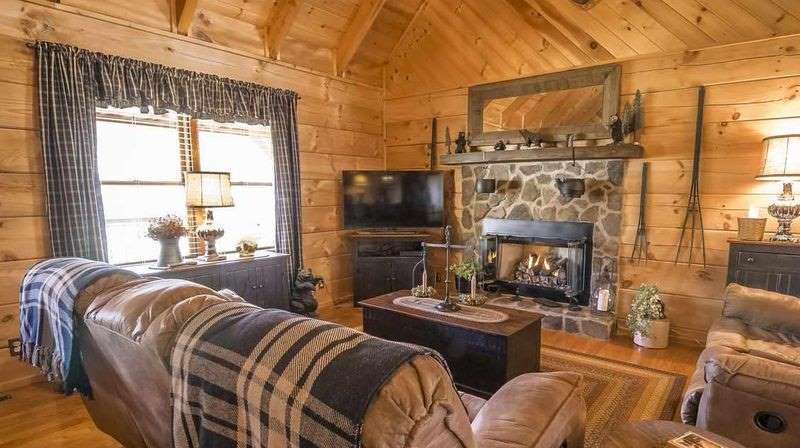 Log cabin curtains can vary from perky country curtains, to heavy drapes or custom window blinds, or even bare windows with rustic window valences.
As with all rustic decorating, much is left to your imagination and to your personal style.
Also keep in mind that your choice of window treatments will also depend on the location of your home, its setting and the level of privacy that you have.
To make things more fun, window treatment ideas can include your favorite theme—from pine cones, fishing or wildlife, to bears, deer, or moose.
Window Treatment Ideas – What to Keep in Mind
Outfitting your lodge or cabin windows is not as simple as going to the store and picking up a set of drapes or curtains.
When considering window treatment ideas, here are some points to keep in mind:
Privacy
If you live in a development or town, you may have houses close by, and privacy is a major consideration for choosing the best window treatments for your home.
You will need to choose curtains or drapes made from opague fabrics that block light and block the view inside your home.
However, if you live in the country, and, at least some of your windows face unpopulated areas, you can be more liberal in your choices.
In this case, consider using sheers or leaving some windows bare, without anything to impede the view outside.
Light
Any window treatments that you use, will block some of the light.
Depending on which direction your windows face (and where you live—north or south), choose window treatments carefully.
Do you need to let in the most light, block the solar gain in the summer, or block the late western sun in the summer?
Theme of your Room
Make sure you keep your curtain color complementary to your other home furnishings and the theme that you have chosen for a particular room.
Your Choice of Fabrics
Of course you see everything, including sheer curtains, in rustic cabins, lodges and log cabins.
But most country curtain fabrics tend to be heavier, and less refined than you might see in traditional stick built homes.
For example you might consider burlap, crude linens and heavier fabrics with a rougher texture.
In addition, you may be able to find curtains or drapes that go with your decorating theme. Cute log cabin curtains with appliqued or embroidered pictures, like pine cones, bears, canoes, fishing, deer or moose.
Sometimes a rustic cabin or home can have so many hard materials that it needs a little softness to balance it.
Hard surfaces include wood ceilings, beams and walls, tile floors, leather furniture, bare windows, etc.
Because sound bounces off hard surfaces, a room with too many hard surfaces can make it difficult to hear with a crowd or while watching TV or a movie.
You can soften the look of a room and make it more pleasing to watch TV or visit, by adding wall tapestries, an area cabin rug, and by adding fabric curtains and valences.
Fabric curtains add color, softness and character to log cabin décor.
Rustic Window Treatment Ideas For Country Homes
So what are some of the ways you can dress up your rustic lodge or log home windows?
Bare Windows
Many log homes and timber frames just leave the windows bare or use valances at the top.
If you have large windows that look out to a private woods, lake or the ocean, this allows you to take full advantage of the beautiful views.
Rustic Log Cabin Curtains
You may choose to buy rustic kitchen tier curtains or rustic curtains for your bathroom. In these two rooms, you can use fabric with a lighter weight, perhaps a cotton or cotton blend.
And you can choose everything from a country plaid or gingham to a fabric that mirrors the theme you have chosen for your log cabin décor.
Consider using tie backs and rustic curtain hardware to complement your curtains.
Rustic Drapes
Draperies for the great room and bedrooms can be made from heavier fabrics. You can also find valances (like that shown in the photo) that mirror your cabin decorating theme.
Window Blinds and Shades
If you need to insure privacy at your windows, you might consider window blinds or shades.
You can choose rustic wooden window blinds (or vinyl in colors), motorized window blinds, or have custom window blinds made at a local store like Lowes.
If you decide on window blinds before your house is built, you can even get motorized blinds inside your windows, so you'll never have to dust them!
Rustic Window Valances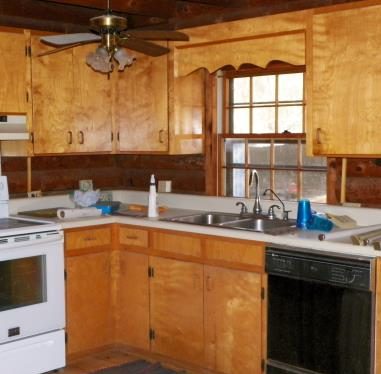 Perhaps you want to dress up a window, but you don't want to block the light or the view.
You can achieve this using sheers and a window valance curtain.
Or, consider a wood valance and no curtains, as you see in this photo at the left.
The rustic wood valance that you see is an easy project for a person who is handy around the house.
There are some really cute fabric valances on the market. And you may be able to find a wooden valance (although those are not as easy to find).
But the good news is that, if you're handy and like to work with wood or to sew, you can easily make window valances!
With a little forethought, you can have rustic window treatments that are perfect for your home. First consider what you want your cabin window treatments to do for you. Then choose the look that you like best.
Rustic window treatment ideas are like the icing on the cake. They add the final touch to an already nicely decorated log cabin with rustic décor!