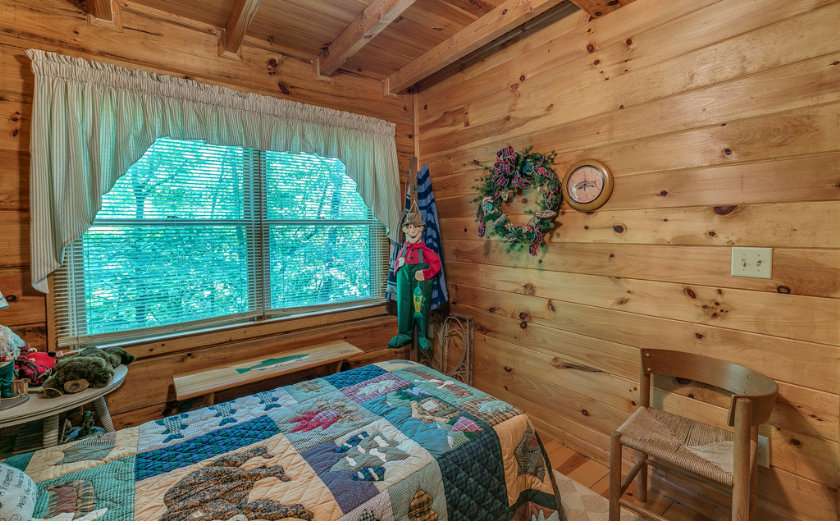 Choosing drapes vs curtains is a personal choice, and it is best made when you can easily define your goals for a room and how informal you would like the room to be. Log cabins and timber frame homes often have informal and rustic themes.
So what is the difference between curtains and drapes? A lot of people use the terms interchangeably, but curtains and drapes are not the same thing. It is true that they are both window treatments, but they will give you different results.
Drapes
Drapes are floor length window treatments, usually made from heavier fabrics.
Drapes, or draperies, are often hung by hooks and are opened and closed, using a traverse rod.
The fabric in drapes is often too heavy and thick to hang, using a rod pocket and curtain rod.
However, there are drapes with large rod pockets for large decorative curtain rods, depending on the fabric.
And some drapes have tabs (small loops of fabric at the top of the drape) for hanging.
These popular Northern Exposure drapes are lined. Using the tie backs gives them a more informal look, and you can see the view out the window.
Drapes are often lined. The fabrics used in drapes can be quite expensive, are often heavy and they also can be quite elegant.
You need 2 drapery panels for a window, one for each side of the window. Sometimes drapery panels are sold separately (one panel), and sometimes as a pair of drapery panels.
Drapes are More Formal than Curtains
In general, you choose drapes for more formal rooms, like living rooms, bedrooms and dining rooms. Drapes give a room a rich, luxurious look. And drapes can make a room look warm and cozy on a cold winter's night.
And, if they are made of thick fabric or insulated material, they can also help keep your home warm (or cool), by keeping out drafts and insulating your window areas.
Drapes are often pleated at the top, which also makes them look more formal.
Drapes are more expensive than curtains, as they use more costly fabrics, and their construction is more complicated and time-intensive.
Curtains
Curtains are made of lighter fabrics like cotton or sheer fabrics. They may have a rod pocket or tabs at the top, for hanging. You simply slip a curtain rod into the pocket or tabs to hang the curtains.
Tier curtains like the ones in this photo, cover the bottom half of a window.
Curtains are often opened and closed by hand, by simply sliding them along the curtain rod. Curtains are sold in pairs, and you need a pair of curtains (or 2 curtain panels) for each window.
The length of curtains varies. They can be café curtains (tiers), which hang from the middle of the window to the window sill.
Curtains can hang from the top of the window, to the window sill, to the bottom of the window trim (lower than the window sill) or even to the floor.
Shorter curtains are informal, and help give a room an informal look. Longer curtains are more formal.
Curtains can be lined or unlined, but most often, they are not lined. Curtain fabrics are light weight, can be sheer or semi-sheer, and can be willowy in the breezes.
Now that I've given you the low-down on curtains vs. drapes, I should tell you that even people who sell them, use the words interchangeably.
So you can't count on finding what you want, by doing an online search, because there is still a lot of confusion about the terms.
How to Decide on Drapes vs. Curtains
Your decision about drapes vs curtains, will depend on your main goals for your windows and your room.
Machine Washable
If you are looking for window coverings for the kitchen, bath, or kids' rooms, you will probably want to consider the care requirements. If you can just throw the curtains in the washer and drier, your life will be much easier.
Curtains are usually easier to clean, than drapes. However, when shopping, you should check for care instructions, as some drapes are also made from easy care fabrics that can be machine washed and dried.
Privacy and Light Blocking
If your main goal is privacy, full length lined curtains made of a heavier cotton or a cotton blend could work for you.
However, curtains are not usually your best choice for privacy. Your best protection from unwanted voyeurs, is draperies.
Generally made from heavier fabrics, drapes give you privacy, block light for sleeping and filter dust from open windows.
If you live in the country, with no likely intruders, you can get away with curtains or shorter tier curtains. Sheer curtains let light in, and give you some privacy during the day.
However, at night, people passing by your home, can see into windows that have sheer curtains.
To remedy this, you might use a combination of sheer curtains and drapes or curtains. The closed sheers will give you daylight privacy and light.
Closing the curtains or drapes at night, will give you night time privacy.
Energy Savings
Looking to save money on heating and cooling? Drapes are the most insulating and energy saving window treatments.
For even more savings on energy, you can combine drapes with an insulating window shade that is installed, inside the window frame.
If your main goal is energy saving and staying warm in the winter and cool in the summer, draperies are your best choice.
Decoration without Hiding the View
If this is your main goal, consider using tier curtains and a valance, or just a valance by itself. A valance can add a bit of color and softness to your room, without sacrificing a pretty view.
Casual Ambience
Curtains are usually more casual than drapes.
In addition, short curtains are more casual than long curtains or drapes.
However, you can find adorable rustic drapes that have a cute print or appliques, that lend a casual elegance to a room.
For example, in a bedroom, where you want a casual feel and privacy, you can use a pretty set of draperies and achieve both.
Rustic Elegance
Generally speaking, draperies are more elegant and dramatic than curtains.
They are more formal, and the fabrics are richer and more interesting.
A rustic timber frame or log home can be quite elegant (and still rustic) with pretty theme-related drapes. Add drama and elegance to your room with drapes.
Color and Design
If you simply want to add color and a theme design to a window (e.g. roosters, bears or moose), you might consider curtains.
Curtains add brightness, color and they enhance a theme. And curtains can be quite colorful.
Curtains can give a room a cheerful appearance, with their light see-through fabrics.
As you can see, making a choice between drapes vs curtains is not cut and dry. Your decision will depend on your reasons for choosing window treatments in a particular room.
And, most of all, it will depend on your personal taste and how you want your room to look.