Learning how to make log furniture is not difficult.
And, while it is easier if you have had some woodworking experience, you can make your own furniture, even if you are a beginner.
Unlike simple bird houses or whirligigs, log furniture, even if it is rustic log furniture, requires making some joints.
While most woodworkers don't use joinery in their very first project, you can learn to make joints with a little practice.
There is an art to making a sturdy piece of furniture look rustic.
And, if you enjoy woodworking, you can learn to make rustic log furniture pieces that are one of a kind…
Making log furniture looks like a piece of cake, but there is an art to it!
Are you a beginning woodworker? Start with a simple project, so that you can gain some experience and some confidence, before you tackle a project like log chairs, with their multiple joints.
Real log furniture, even today, is always made by hand.
Building log furniture is almost a lost art. Maybe that's why it costs so much to buy it.
In fact, it's even hard to find books that tell you how to build it yourself. And most of those are out of print.
However, I did find a source of plans that is excellent and available. You can purchase hundreds of easy to make furniture plans here. Guaranteed to please, you can get your money back within 60 days if you are not happy with them!
Learn How to Make Your Own Log Furniture
Many of us learn by watching someone else work. You will need to learn:
How to remove bark from a log
How to dry and then store your logs, until you are ready to construct your furniture
The right way to sand your projects
How to make mortise and tenon joints
How to calculate the right angles – so your pieces fit together correctly
Choose Your Design Carefully
Log home furniture is built to last. So before you try to learn how to build your own log furniture, take the time to make sure that you like the design and that it is exactly what you want.
Because log furniture lasts for years, you will not have to replace a handcrafted bed, for example, because it wore out or fell apart. It will outlast you!
Design and plan your project carefully. You will be enjoying your log furniture for a long time!
Choose Your Tools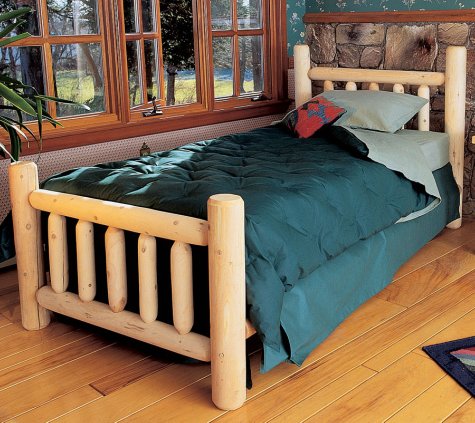 Consider whether you want a hand-hewn look or a rustic look.
The hand-hewn look almost looks like rough logs, used directly from the forest.
A rustic look is chunkier than most furniture and it has very simple lines, but it is more finished than a hand hewn piece of furniture.
Depending on which style you choose, your tools will be slightly different.
And the amount of planing, sanding and finishing that you do, will differ as well.
Choose Your Materials
The wood that you choose can make a difference in your finished product. Different woods are more suitable for certain projects than others.
And you also have a number of choices when it comes to complementary accents. For example, you can incorporate twigs, bent willow branches, antlers, metal pieces, woven seats on chairs and even carvings into your furniture, if you are really talented!
In addition, you should consider finishing your rustic log furniture. Many people like the natural look of unfinished wood, but, over time, unfinished wood will get dirty from being handled.
Also, if your furniture is in a location where there is lots of humidity, such as a waterfront property or a cabin in the woods, mold can develop in unfinished wood.
Consider applying a finish to your furniture to protect it. A clear non-glossy finish will protect your furniture and make it easier to keep clean. The type to use will depend on whether your furniture will be used inside or outside.
If you love the look of log furniture, why not consider learning how to build log furniture yourself?
You will save lots of money and, more importantly, you'll have a unique piece of furniture that you built yourself! If you are interested in getting some rustic furniture plans, you may like this review.