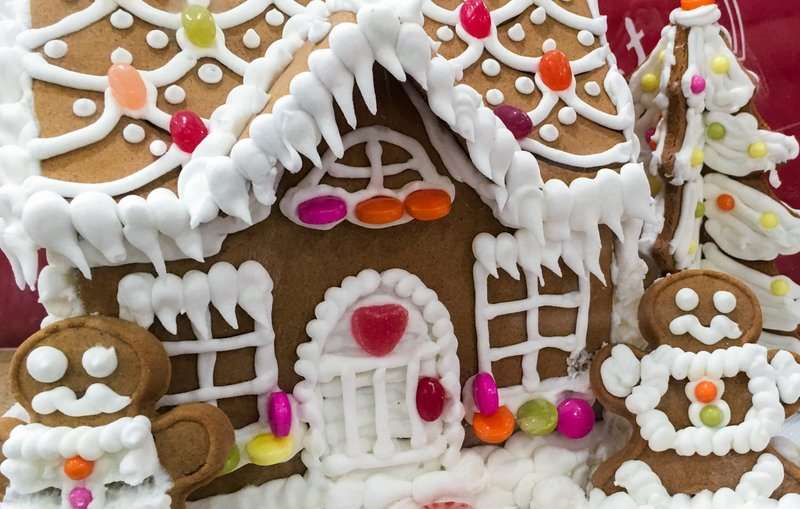 Gingerbread house pictures can give you ideas on how to make your own gingerbread houses unique and creative. This collection of gingerbread house pictures should get you started.
The look of your gingerbread house will depend on a number of things–how artistic you are, who helps make the house, and how much fun you make the process.
Don't make the mistake of being a perfectionist. Just have fun. After all, this log cabin tradition is more about having fun than creating a masterpiece.
Enjoy my collection of gingerbread house pictures!
Gingerbread House Pictures – Typical and Simple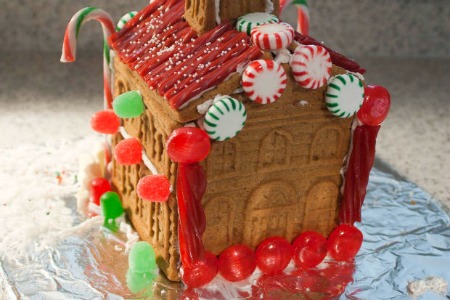 This is what we think of when we talk about gingerbread houses.
It is fairly simple and decorated with candy. Note the licorice on the roof for a metal roof effect.
To make a gingerbread house, you usually shape and then bake each side separately.
After baked, the sides and roof pieces are glued together with icing.
At the bottom of this article, I'll show you where to get a gingerbread house already constructed.
All you have to do is ice and decorate it. The fun part!
Magical Gingerbread House
This gingerbread house is whimsical.
It is painted with colorful royal icing and has lots of candy canes and little candies.
To make it even more magical, the artist even added little elves and a wreath on the dormer of the house.
Details are Important in a Gingerbread House
This elaborate gingerbread house has poinsettias, holly, trees decorated with Hershey's candies and even a saluting tin soldier.
Very artistic, this house took some skill with the pastry tube!
Gingerbread House By the Sea
Built on stilts, this gingerbread house sits on the water.
Notice the blue and green candies under the house, the white roof decorated with red and green "lights" and the look of a seaside shack.
If you enjoy going to the ocean, you might consider building an oceanfront gingerbread house.
Build a Gingerbread Tree House
Whether it's meant to or not, this gingerbread house reminds me of a fantasy tree house.
It has two levels and even has cute little mice going about their holiday chores.
Very artistic and fun. Note the exquisite details…
Gingerbread Storybook House
Doesn't this gingerbread house remind you of Hansel and Gretel?
I love the storybook appearance.
The roof, with its curves would be challenging to make.
Note the green jelly mint candy evergreen tree at the corner of the house and the pretzel fence.
Gingerbread House Picture of a Simple Design
An example of a very simple gingerbread house, this one could be decorated by anyone, including small children.
M & Ms make the tiles on the white royal icing roof.
Caramels surround the front door.
Gingerbread House Made by Kids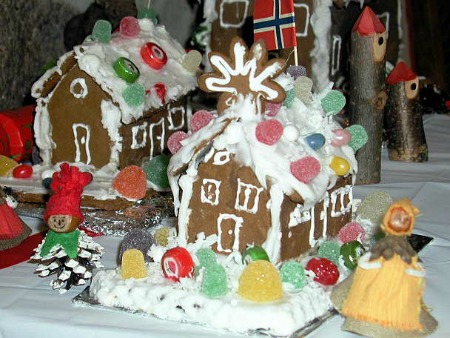 These gingerbread houses were made by kids. Candy and a simple design make it fun for kids to get into the decorating.
Even if you let kids do all the decorating, an adult will need to make the icing and supervise the process, to make sure it is a success.
Gingerbread House – Cookies on Cookies
If you think ahead, you can make small cookies, like these gingerbread boys, to paste (with icing) onto your gingerbread house.
Cute little cookies add to the interest of your design.
This adds an entirely new dimension to your house!
1st White House Gingerbread House
The very first White House gingerbread house was made in 1972.
Here you see Pat Nixon, former first lady standing beside it.
A White House gingerbread house has been a Christmas tradition ever since this first gingerbread house was made.
Another Gingerbread House at the White House
Mrs. Laura Bush, former first lady, standing beside the annual White House gingerbread house in 2010.
Standing beside her is the White House chef who made this masterpiece.
Make Your Own Gingerbread House
Here's your chance to make your own gingerbread house, the easy way.
As you've probably guessed, the trickiest part of making one is shaping and then baking the sides and the roof.
Fitting them together is just not simple, and unfortunately, quite a few "breakages" occur.
To make it easy, you can order this gingerbread house kit. The house is already made and assembled.
All you have to do is decorate it. Everything you'll need is included.
It's great for kids and adults, alike.