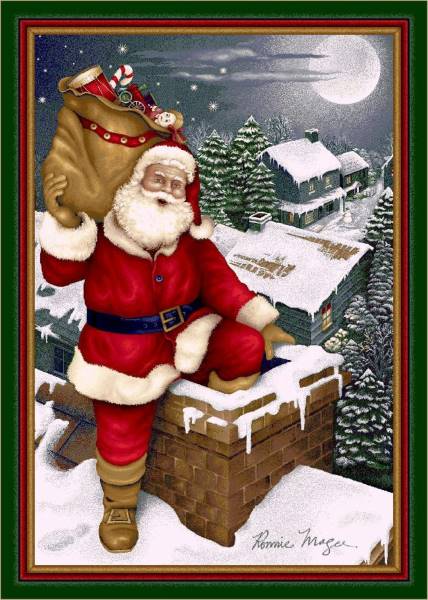 The Up on the Housetop Rug by Milliken is a cute seasonal novelty rug, with Santa on a rooftop, ready to go down the chimney to deliver his toys. One of the wildly popular Santa rugs, it was designed by world-renowned holiday artist Ronnie Magee.
This adorable Santa rug could quickly become central to your log home decor at Christmas.
The rug comes in various sizes, so you could use a small one at the front door entrance to your home or in front of the kitchen sink, a medium one as a hearth rug in front of your fireplace, or a large one in your children's bedroom as a way to bring Christmas into their special place.
This quality rug is made by Milliken, a company founded in 1865, and who has received a number of awards in the U.S. and Europe for its quality workmanship.
Quite practical as well, this rug is constructed with premium nylon yarns and has a Polypropylene backing.
This novelty Christmas rug is treated with Milliguard, a substance that makes it stain resistant and quite easy to clean.  It is also anti-static and lead-free.
A distinctive feature of the Milliken Santa series, you will find the artist's signature in the lower right corner.