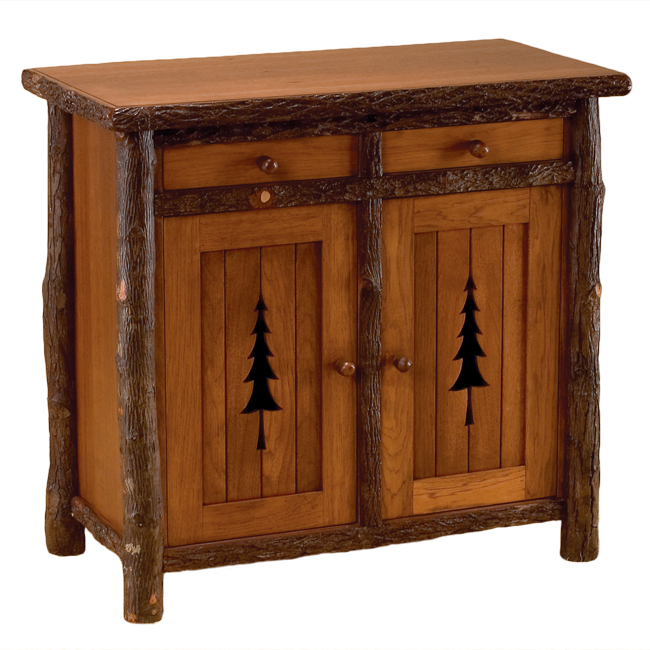 Where do you put your wine bottles in a log home?
That's a good question. And here's the answer. This pretty as a picture pine tree wine cabinet will hold 9 of your favorite wines–keeping them handy for drop-in company or for your evening meal.
This pretty cabinet is made of hickory, and it has a burntwood finish to give it that cherished rustic well-used look.
There are 2 doors. One side has a wine rack and the other has space for storage for glasses and accessories.
Two drawers provide storage for your wine openers, wine glass charms or markers, wine stoppers and wine aerators.
The wine rack will hold 9 bottles of your favorite wines, ready to be selected when guest arrive.
Finished in a natural clear lacquer finish to preserve the rustic look.
---
Make your own Wine Cabinet or an Outdoor Wine Holder!
Ever think of making your own wine cabinet? Or how about a little outdoor wine holder like the one in the photo—for those lazy summer afternoons.
With some basic equipment and a little time, you can do it!
Perhaps you're thinking that you just don't know how. And it is true that there aren't as many do-it-yourselfers as there used to be.
But, don't despair. I've found the answer. Ted's Plans. There are literally thousands of plans to choose from. And many are the rustic kind that you and I like.
Even if you are just getting into woodworking, the directions are easy to follow and the plans have diagrams that show you all sides of your project.
So, if you are thinking that it would be fun to make some things for your new home, check Ted's plans out. I think you'll be glad you did!