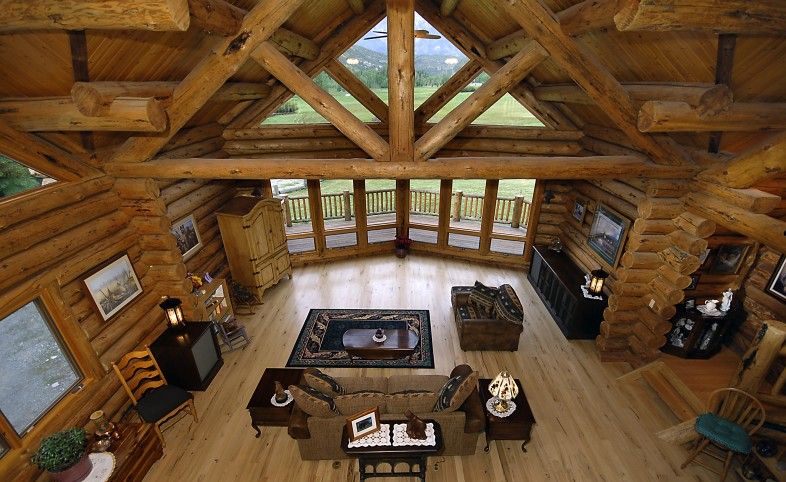 Choosing Rustic Floors for Your Cabin or Lodge
Rustic floors for your log or timber home, need to be chosen carefully, and there are factors to consider that go beyond just the rustic appearance that you want…
For those who are into living green, there are a number of types of rustic floors made from natural materials.
And, for those who are economy minded or consider easy maintenance to be important, there are synthetic floors that can meet their needs.
However, the first consideration for choosing your log cabin flooring is how you use your home.
Will your home be in the country or in a suburban area?
A rural area will have more mud, dirt and stones that will come in on shoes than a paved suburban or city neighborhood.
Do you have a dog and kids that just barge into the house without wiping their feet?
Or do you routinely take off your shoes when you enter your home?
Your style of living will influence what kind of rustic floors you choose for your new home.
As an example, pine or oak flooring can be damaged by small pebbles brought into your home on shoes.
After you decide what you need, the sky is the limit, as you have many designs and types of flooring to choose from!
Rustic Floors in Log Homes and Lodges
Log cabin flooring is not what it used to be. Years ago, almost all log cabins and homes were constructed with heart pine flooring, which was often wide plank flooring.
Modern cabin rustic floors can vary from traditional wide plank flooring to reclaimed oak flooring or ceramic floor tiles, and even to new types of synthetic flooring.
While you do still see wide plank flooring made from pine, you also see other types of flooring, as well:
Wood Flooring
You might use any of the following: oak flooring, reclaimed oak flooring, heart pin wood flooring, mesquite rustic hardwood floors, wide plank pine floors or wide plank oak floors.
Some people building rustic homes use a more exotic and renewable resource like wood flooring made of bamboo.
While wood floors are always beautiful, they do have some drawbacks.
Most log or timber homes are built in the country and may not have sidewalks or paved driveways. Small stones or gravel can easily travel inside on shoes and will cause indentations or marks on wood flooring.
Dogs and cats can scratch wood flooring with their nails.
And, to top things off, wet feet from rain, mud or snow can damage the finish on wood rustic floors. Spilled water from a dog who is a sloppy drinker and water splashes in kitchen and laundry areas also damage wood flooring.
Ceramic or Porcelain Tile
Rustic ceramic tile is practical and often used for rustic floors in utility and entry areas. Here it's used in a pub or bar area.
There are some lovely porcelain tile designs on the market, and many are rustic in appearance.
And ceramic floor tiles can be a very practical solution for rustic country homes.
Ceramic tiles are not harmed by gravel or water and snow tracked in on shoes, and they are easily cleaned.
For this reason, ceramic tile flooring is one of the best choices for entryways, mud rooms, laundry rooms and porches.
Rustic Wood Laminate Flooring
Laminates have come a long way in the last few years.
Many are almost indistinguishable from real wood flooring or real ceramic tile.
They are quite durable and can withstand some abuse.
However, laminates do become scratched with hard use, over time.
For example, if you put laminate flooring in an office, constant movement of your office chair can cause scratches.
However, if you are handy, one advantage of laminates is that you can install them yourself.
Linoleum
Linoleum is far more durable than it used to be, and it has also improved immensely in its appearance.
As you may know, linoleum is ultra-easy to maintain, and it lasts quite a long time if you get a good quality linoleum.
One drawback to linoleum is that, if you drop a knife or sharp object, you can get a nick in the flooring.
When choosing your rustic floors, consider where you live and what you will expect from your floors. If you are very informal and people walk right into your great room from outside, consider a practical rustic flooring instead of carpet, which will be ruined within months.
Of course, another alternative is a durable, hard surface floor with a nice area rug that compliments and enhances your decor. If you put an area rug in an entryway, make sure that it is washable.
Check out our reviews on rustic cabin rugs.
And don't forget to consider maintenance. The reason you have a log or timber home is so that you can enjoy your home and its surroundings. Make sure you don't spend all your time cleaning and maintaining your rustic home and its furnishings!